Factory Pro's Dutch Iwan on his R6 on his way to another finish!

www.powerbikes.nl

Yamaha YZF600 R6, 1999-2002 carb kit, advancer, v stacks, covers

With an unrestricted redline of 15,000+ rpm , it looks like the YZF600 R6 was the bike to beat in AMA and World Supersport Racing in 99-01!
We watched Belgarda Yamaha on their World 600 Supersport Championship quest.
Superflare Velocity Stacks
as used by the worlds fastest World 600 Supersport bikes - Belgarda Yamaha

Billet Superflare Alloy V Stacks

$389.95 / set of 4
(compare to nearly $200 EACH from Yamaha!)



Wes Spagnol's R6
Note: Normal installation still uses the airbox.


Superflare Short Stacks add 2-3 hp to topend power in 15 minutes.
(Also richens main jet circuit by ~1 main jet size)
This is what Factory Pro equipped teams like Belgarda Yamaha's R6's used.
Factory Pro's stacks are 1 piece, too!

The V Stacks work on all years, 99 to 02, equally well.

To see a good dyno (Factory Pro EC997....) do a power check at a 14k to single digit rpm precision -
click here
Try that with a dealership level dyno........

These stacks drop on and, because of the improved velocity, may richen the main circuit slightly - about 1-2mj's. 30mm/25mm combination stacks improve power at 12k and up. We found no decrease low-end and midrange when properly tuned on a 4 Gas EC997 Low Inertia Eddy Current Dyno.

Revs with power, an extra 500 to 700 rpm - and boosts peak power 2-3 hp.

Excellent power improvement for very little work.
These US made v-stacks equal power improvement that equals and exceeds Yamaha Race Kit versions and have been tested to optimize lengths for use with stock and US "Supersport" types of engines.

Designed by Factory Pro. Specially manufactured, featuring a larger, more efficient "flare" for increased air flow.
Manufactured from aluminum alloy, these are 1 piece units that drop on and simply make more power.
Use the 30mm/25mm combination set - for 13k+ rpm

Take the airbox top off and drop them on, replace the airbox top and fuel tank and GO! (They really are better! Marc)
2-3 hp in 15 minutes.

Excellent for street and race classes that allow carb mods.
Add the 1.7-RK RaceKit and Ignition Advancer (below) for the biggest improvement.

To the right, is one of the best stock engine R6's that we've tested - This bike gained over 4 hp on top with the Superflares -

I wouldn't expect that much HP improvement with the Superflare stacks on every bike (as I haven't ever seen it again) - I'd be expecting about 2-3 better on top - with better throttle response everywhere else.

The dip at 5,000 rpm was caused by the old style pipe that was on the bike. Normally, with most other or newer pipes, 5,000 rpm is pretty good on an R6.

World 600 Supersport winning carb kit -
The best damn carb kit you can buy for an R6 - The only way to make a carb kit this good is to copy it (and if you use the same needle on all 4 cylinders, you didn't copy very well)

BEST damn R6 CARB kit you can get
(you can't really disagree if you haven't used it)

pn: CRB-Y78-1.7-RK $289.95





MUST USE ONLY A STOCK, UNMODIFIED YAMAHA AIR FILTER - This means YOU.


April 2014

Hi Marc,

Just thought I'd let you know, the R6 had her first test today after fitting the jet kit and the engine has been completely transformed. From an ill fuelling pig to smooth power everywhere. It's absolutely brilliant, so many thanks for all your help!

All the best,

Alex.




1.7-RK RaceKit

MUST USE ONLY A STOCK, UNMODIFIED YAMAHA AIR FILTER

This kit (similar to Belgarda Yamaha's setup) requires a small bit of carb body drilling and tapping.
Our kit includes the special Factory Pro combination of drills, and taps that allows the removal and conversion of the carbs to replaceable main air and pilot air jets - just like those special, "you can't get them", engineering carbs used by Yamaha to do their initial tuning in Japan.
For fine tuning, if you are tuning and have access to an EC997 Low Inertia Eddy Current Dyno with integrated 4 Gas Analyzer, you can extract the last 1-2 peak hp from your bike. If all that you have access to is an inertia dyno with a 1 gas analyzer, forget it -If you are using a good dyno doing silly "sweep tests" you will never figure out that last bit of power due to lack of 4 gas information and power resolution. A dynojet type sweep test will typically show that "All is good" and you will stop - when, with the EC997 dyno, you would be able to see that you still can make improvements and you will do it.
That's from AMA Pro racetrack racing and tuning side by side with "official" dj dyno over many years.
Doing Sweep Tests does not sufficiently load the engine to duplicate real world operating conditions.

This kit is the only way to eliminate all traces of that nasty little off idle throttle response when leaving a stop slowly that R6's are so famous for. Even though it's at part throttle / low rpm, fixing that problem also addresses the small "loading up" racetrack only problem that all R6's without this kit have when entering corners at part throttle and very high rpm.

Legal in all forms of racing that allow carb recalibration kits, including AMA, CCS and CMRA.
Topend power increase? - the Factory Pro 1.7-RK Carb Recal Kit tm, all by itself, when using the stock exhaust system or an aftermarket system will improve peak power and still improve low and midrange power.

Part throttle power is improved over the 1.0 and 1.1 kits, too.

The 99.9% proven additional add-on (for a stock engine) is the +4 Ignition Advance Rotor. That's a bit more peak power - but more importantly, the +4 makes better part throttle power (recognized as "snap" and "power coming off a corner" ).
The +4 does not affect jetting any more than, maybe 1/4 or 1/3rd of a main jet's worth (that's equivalent to a 10f change in outside temperature - so, except for the power change, to the carb tuning, it's almost invisible. RTR-YAM-78-04

If it's a street bike or in a class that allows it, add the Factory Pro R6 Velocity Stacks for more easy hp!
click for more information

RE: 2002 R6's - unlike the earlier models (<01), the 02 R6 seems to be too rich at full throttle at VERY low rpm.

Oh - the dj kit for the bike that we tested at Road America (June, 02) included a "shroud" that decreases the airflow through that the bore of the carb - which reduces power at the peak and beyond. As little as a a 1.5mm increase in the height of the needle jet "will" will hurt power.
If dj can't tell with their dynos - so be it - but, you can see it with the Low Inertia EC997 Eddy Current dyno improved high rpm power resolution.....

To see a good dyno (Factory Pro EC997....) do a power check at a 14k to single digit rpm precision -
click here
Try that with a dealership level dyno........

CARB REBUILD - HDJ needle jet Conversion
$500 Call 800 869-0497
Carb kits -
The no drilling, tapping milling or filling, "drop in" kits


CRB-Y78-1.1-ti $159.95



2.


MUST USE ONLY A STOCK, UNMODIFIED YAMAHA AIR FILTER


CRB-Y78-1.0 $139.95




MUST USE ONLY A STOCK, UNMODIFIED YAMAHA AIR FILTER

R6 - up to and including 02
Just drop this kit in and improve your
Topend power increase? - the Factory Pro Carb Recal Kit tm, all by itself, even without an exhaust change will improve peak power.
Easy to install and tune - No slide drilling.
Doesn't have the well known 8k-9k rich spot like some other brands of carb kit...
Works cleaner at full throttle in the 8k-9k midrange and doesn't have the part throttle / slight deceleration load - up feature that causes the bike to stumble when exiting low speed corners like some other brands of jetting kits.
Do the Factory Pro R6 Velocity Stacks for more easy hp! click for more information



R6 Pilot Jets $6.95ea
Buy now 4 pcs.

(CRZ-KPJ-Y78-38)
(CRZ-KPJ-Y78-40)*
(CRZ-KPJ-Y78-42)

Factory Pro was the first company to supply these new style pilots jets:

#38 for the short CA cams (stock is 35)
#40 for the 49 state/ Euro / unrestricted models (38 is sock)
#42 pilot jets in stock!!!
No more inaccurate drilling of pilot jets!!

Generally,
#40 pilot jets will improve part throttle response in bikes with 49 state cams.
#38's will improve TH response in bikes with CA cams.
#42's will pretty much not be used in an R6 unless you are trying to make a dj kit work perfectly at low rpm - (and it won't work perfectly when you are done)

Ignition Advancers
The no drilling, tapping milling or filling, "drop in" kits - includes gasket





RTR-YAM-78-04 $99.95
(also available +2, +6 and -2)

BACKORDERED

Advance ignition timing +4.

Adds 1-2 at full throttle, but, more importantly, adds better power at part throttle, as is exiting corners and in-town driving.


Drop in this RTR-YAM-78-04 ignition Rotor and get improved midrange and a bit of topend.

+4 is the suggested advance amount for an unmodified engine. Works very well with a stock bike or a bike with an aftermarket exhaust slipon or system. Still can use "regular" fuel - "premium" not required.

The Yamaha 5EB-81673-00-00 ROTOR is also used on these models and components:

Never going to happen....

SHFT-PRO-YAM-78

The original R6 and R1 shift mechanisms are oddly designed, using a high tech, Factory Pro type of Microbearinged detent arm and an older tech, short, overstressed tension spring - last seen on the older zx7's and zx9's. The original Yamaha tension spring is overstressed and tends to break. Just about all other newer bikes use a torsion spring for the detent mechanism. A torsion spring is a better choice for this application, delivering more force with less stress on the spring material.
The detent arm is also comparatively brittle and sometimes breaks at one of the sharp bends near the spring mount hole. It's just a question of time. If you break a detent spring at an AMA race, look around, the bigger teams keep them in stock....
Unfortunately, short of completely redesigning the shift detent mechanism assembly, there's not a whole lot you can do.
Tip: Replace the 01-05 stock 90506-14003-00 shift spring regularly. It's only $2.
PERHAPS, baking the stock shift spring at 325f for 3-4 hours will equalize stress a bit more in the spring. MAYBE that will prolong spring life. It won't hurt, at any rate.
The detent arm? Perhaps building up a bit of brass with high nickel content brazing rod at the corners, near the spring mount holes will add more bearing material and anneal the case hardened detent arm to make it less brittle.

Free advice....

COV-Y78- LH / RH

NOW!
Integral "Frame" Bumpers!

slider concept patented

These are NOT the overpriced, poorly detailed covers that Lxxkxxxt and and others make and sell - they are hand deburred, countersunk, beveled and radiused to a detail level that makes any other cover look like cheap and tawdry copies....

Actually - one of those covers IS a copy of our gasket profile! But they didn't go through the exterior detail effort and the CAN'T do the pat. pend. slider.

A 100mph lowside will likely wear through a non-slider equipped billet cover. At least, the cover will become an ugly scar.
With the Factory Pro cover - all you would likely need to do to erase that 100 mph "event" is to simply unscrew 2 screws and replace the slider!


COV-Y78-LH-ACM
$329.95

This is a special cover for when you remove the charging system rotor.

Remove 3lbs from the end of your crankshaft and gain much acceleration - just like the old ACM Kit for the FZR400/600. This cover is tucked in MUCH closer to the engine for maximum cornering clearance when racing.

Not for street use unless you want to recharge your battery every hour or so....
I ran Factory Pro engine covers on my rookie season in 2005 as a Novice rider with the CMRA. As you know us rookies tend to crash a bit more than others. I'm sure I'm not the first to say the covers and sliders ROCK! On several lowsides throughout the season the bike slid on the sliders and never once tumbled. I contribute this to the position on the slider on the bike. Friends with conventional sliders found the slider digging in and flipping the bike causing much damage. Needless to say, my season ended in one Championship and two 3rd places. CMRA seen fit to bump me to expert in 2006. I purchased two brand new GSXR's and have already installed Factory Pro covers on the one through RaceworX in Dallas. Unfortunately I had the chance once again on December 20th at MSR Houston to test them out. Once again they performed great!!!! The bike slid on the slider. Beside a few scrapes on the plastic the bike was not damaged.
With this said I feel like I could represent your product with much confidence! If you offer a support program I would be glad to participate. As I said, I have already purchased a set for the Superbike. I'm only in need of a left side stator cover for the 06 GSXR 1000. Attached is a copy of my resume along with a rendering on the new paint scheme for the 2006 season.
I feel the your product has saved me a ton of $$$$ in crash repairs over the past season.

Thanks again,

Marv Esterly
True Rear Wheel Horsepowertm Factory EC997tm Eddy Current Dynamometer
---
Tech Support
Why do most, but not all, 2002 R6's run much richer at low rpm than the 2001 and earlier R6's -even if the carb part numbers are identical or the jets and float heights are the same????
Call in or
email
in your needle jet choke heights on all years -
respondant
date
year
needle jet choke height from bottom of carb bore
HFD1
Buford, GA
Factory Pro EC997 dyno
04 02 04
2001 R6
exactly 3mm
Main Jet Stagger

affects of, diagnosis of, using EC997 Dyne w/ integrated 4 Gas EGA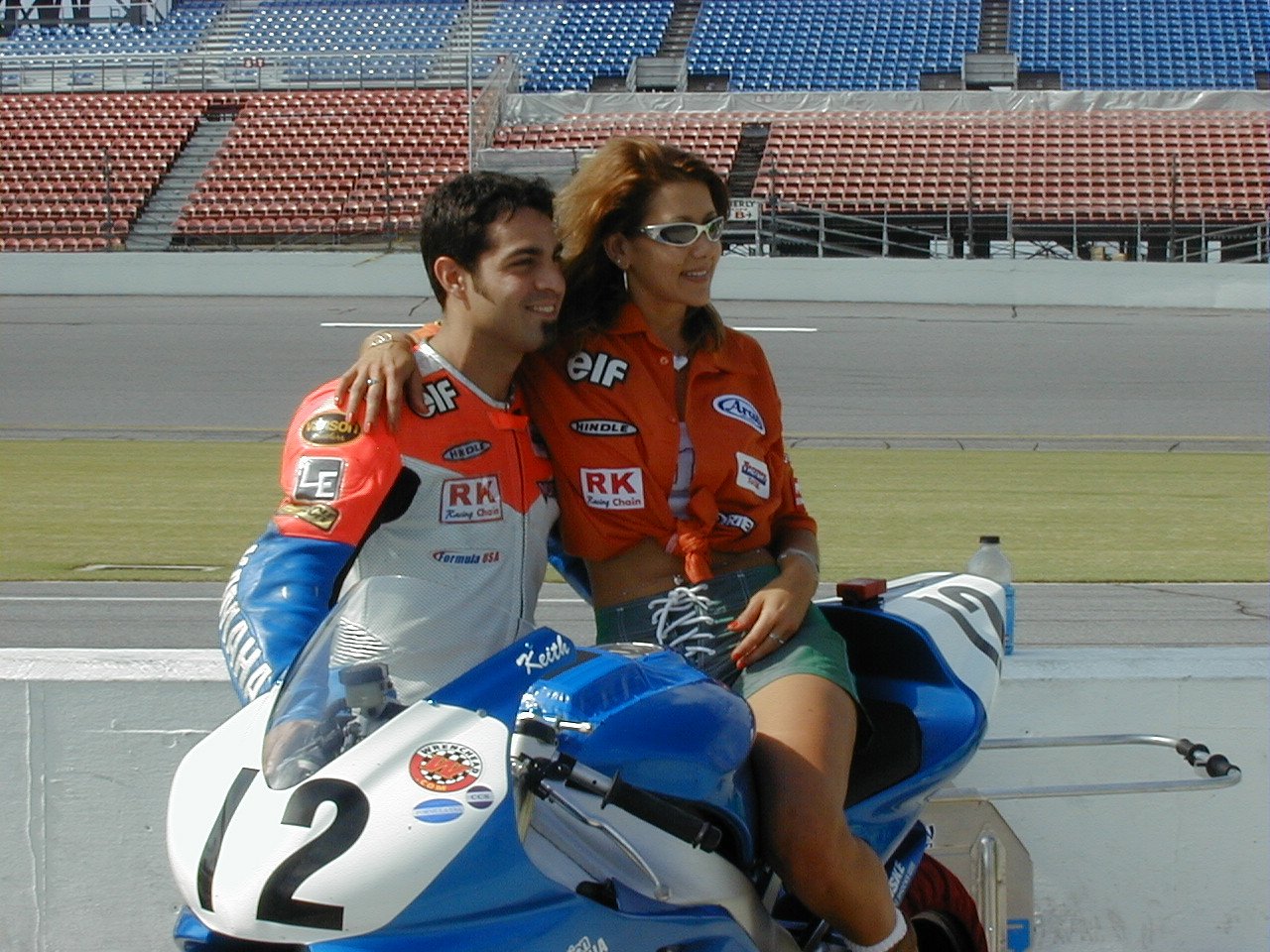 Factory Pro Support Rider
Keith Marquez and friend at Daytona 2000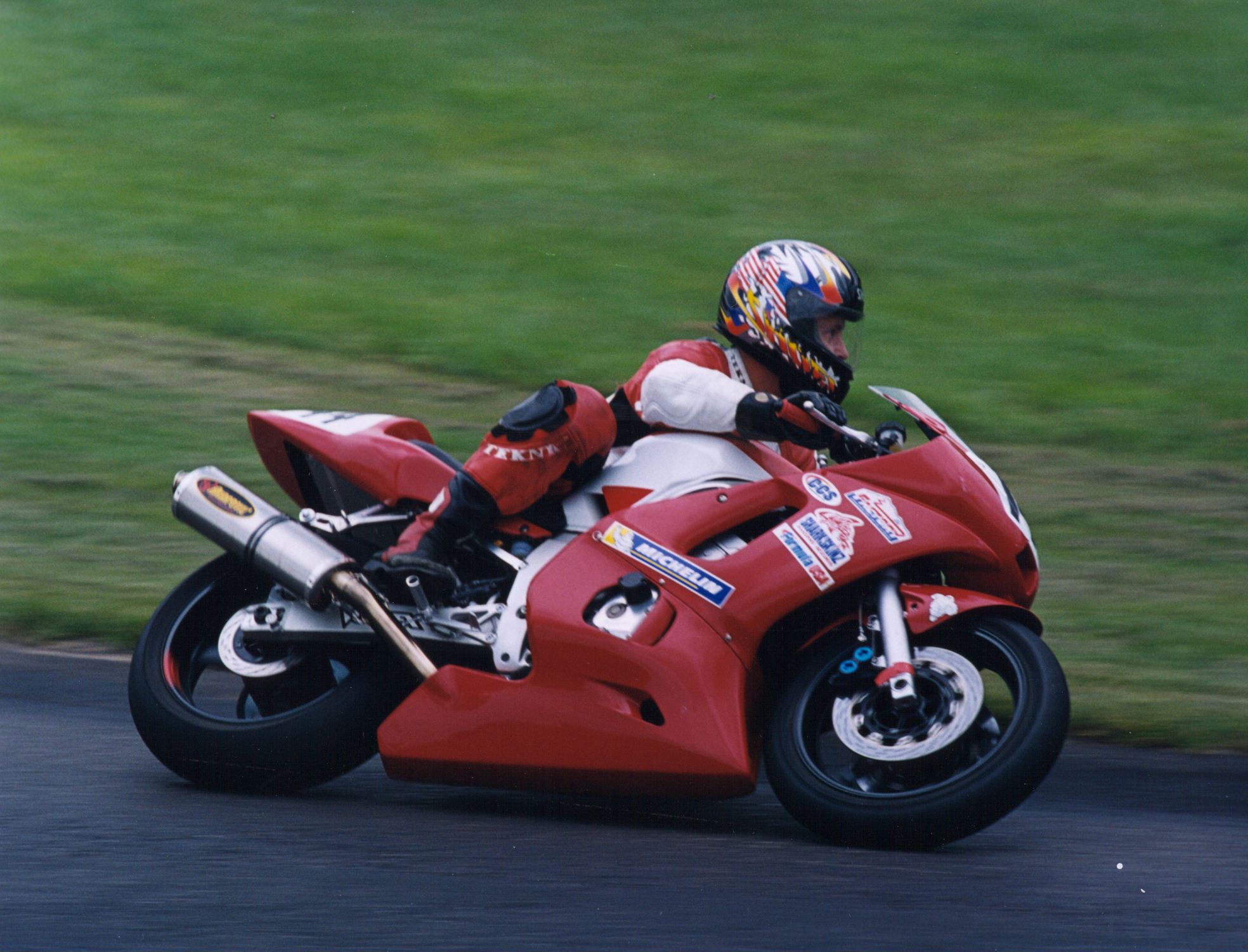 Factory Pro Support Rider
Kent Larson at Gratton Raceway
(Kent wrote the software for the EC997 SAE Correction Tables)


Low Inertia EC997 Eddy Current Dyno in operation in Switzerland at

Pichard Racing

Switzerland and France
Factory Pro Tuning Center locations


click here!
---
Notes
October 12, 1999
To be closely equal to 49 state / unrestricted models, CA / restricted bikes actually need to change:
1. Intake cam
2. Exhaust cam
3. RTR-YAM-78-02 or 04 Factory Pro OR 49 state ignition trigger (oem #5EB-81673-00).
4. Option: 49 state / "unrestricted" igniter box (allows 1000rpm higher rev limit).
The 49 state / "unrestricted" igniter unit will help with it's higher rev limiter.
There are some <1hp differences between the 2 boxes at full throttle, throughout the operating range.
The thermostat wouldn't be required, as the "unrestricted" version has a lower minimum opening temperature, but the higher temp t-stat shouldn't affect maximum operating temperature, only the minimum temp when the thermostat begins to allow coolant flow for additional cooling.
That's it!
See northern California's Moon Brothers Racing. They provided the 2 California / restricted bikes for research and testing.
Sept. 20, 1999
CA bike needs:
Intake cam
Exhaust cam
49 state ignition box
49 state ignition trigger (oem #5EB-81673-00)
PROBABLY that's it takes to get to "unrestricted" version.
Also, thermostat is different, with the "unrestricted" version having a lower minimum opening temperature. Shouldn't affect maximum operating temperature, only the temp when the thermostat begins to allow coolant flow for cooling.
Aug. 20, 1999
Yep! The cams in the CA (restricted) models ARE different. It took a bit of sleuthing to find that out - before the microfiche was out. For best power, it will be necessary to upgrade cams to the 49 state / Euro / unrestricted cam set. Still Remember - you need the unrestricted ignition box, too. We will be doing that over the next 4 weeks.
Aug. 11, 1999
Tested a 49 state R6 with ~1000 miles today. All stock - stock carb and exhaust. Power was ~85 True Rear Wheel HP - just shy of the European model that we've been working on this year.
So, Euro and 49 state models probably make the same power and the CA models probably make less.
We swapped the Euro and the 49 state Ignition boxes - with virtually identical full throttle power being produced - so 49 state (unrestricted) US model owners shouldn't worry about buying the Euro box.
Yesterday, we tested the Euro, unrestricted ignition box on the restricted California models. Very poor response - lost 2-3hp everywhere. Don't do that at home! Interestingly, the CA box, when installed on the unrestricted models doesn't lose very much power - but that's not a good idea either. The rev limiter on the CA restricted model also kicks in over 1000 rpm earlier, too.
But, if I was budgeting $$, I'd buy the V Stacks before I bough a 49 state or Euro ignitor.....
Aug. 10, 1999
California models: (2 tested, tonight) seem to be different than other versions of the R6. Power was about 10% lower (~76-77 True Rear Wheel HP Scale) as compared to European models tested here (85-86 True Rear Wheel HP) and as compared to YZF's that we've tested on the AMA Pro Racing circuit. With only 2 CA models tested, it is possible that these 2 examples were simply lower, by chance, than the 49 state models.
The microfiche that has been released, shows only 1 camshaft type, but doesn't specifically mention the CA model - so what does that mean? Only that it's not mentioned.
Interestingly enough, swapping the Euro Ignition Control Unit to the CA bikes caused a 2-3hp loss just about everywhere - so that doesn't seem to be a great idea - without some other changes. Even more interesting - (yes, the temptation was to great to resist) hmmm. If the Euro box LOST 2-3hp on the CA bikes, maybe, by some stroke of luck, the CA box would GAIN 2-3hp on the Euro bike. Alas, it was not to be. There was a tiny increase at 8k (on the EC997 Eddy Current Dyno, in an auto increment Step Test) and a loss of 1-1.5hp at high rpm. The rest of the rpm band was very close to the same, though the engine didn't sound "happy" with the CA box. Hit the "soft" rev limiter at ~14,200 indicated, too.
Power improvements - CA models: Installing a Race type slip-on (2" core) gained 1-1.5hp at high rpm with a CRB-Y78-1.0 prototype Carb Recalibration Kit.
We also tested our several lengths of our Factory Pro Velocity Stacks ($200 USD) They are very easy to install and the 30mm/25mm combination increased power 1-1.5hp at higher rpm with power improvement starting at 10k. They do work well and I haven't seen an application that required rejetting if already properly jetted.
Aug. 10, 1999
49 state models:
Finally happy with CRB-Y78-1.0 kit. We tested and tuned other carb kits that are on the market and found that most of (actually -all of them) caused a rich spot at 8k-9k at full throttle when they had the best main jet for maximum power at high rpm. We encountered that, also, and decided that it would be better to solve that problem before we officially sold a kit for the YZF - especially since the bike ran pretty clean and pretty well when it had the correct main jet and one went up one size on the pilot jet. Sorry to those who didn't believe it....I think you can still unplug those main air jets....
So it is done. We are spec'ing the 1.7-RK kit next week - so it should be available in a week or 2.
Aug. 4, 1999
Billet Engine Covers are available! Left side and Right side stock replacement.
The stock RH cover is very prone to damage in a minor lowside - dumping oil when worn through.
Want to Superbike your YZF? We have a Billet Engine Cover for running no alternator! In stock.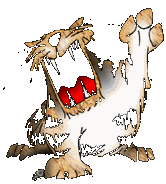 ---
Links
---
Letters
Subject: Thanks for your support
Date: Mon, 19 Mar 2001 12:15:09 -0600
From: "John Wendl" <jlwendl@.com>
To: "'Marc Salvisberg'" <factory2@ix.netcom.com>

Hi Marc,

I have been on racer support with Factory Pro Tuning for 2 years now. I wanted to personally thank you again for the support you have given me for the 2001 season and also to inform you how well your products perform.

I just completed the opening round of the CCS Midwest season at Gateway International Raceway. Unfortunately I had a get off at a little over 100mph. I had just installed the Factory engine covers with built in frame savers and they performed better than I would have ever thought possible.
The only damage my R6 sustained was a slightly tweaked shift lever. Not a broken lever, bodywork, or anything. I rode the bike back to the pits and made my next session. I have already ordered a replacement bumper since mine was almost completely worn down. I will continue to recommend your products to anyone who will listen but have a new found appreciation for the incredible functionality of your products.

Thanks again,

John Wendl
CCS Midwest Expert #40
AMA 600 Supersport #40
Director Midwest Operations-NESBA (Northeast Sportbike Association)
---
Letters
Subject: Re: 99 R6 "sluggish spot"
Date: Mon, 7 Aug 2000 19:07:48 EDT
From: ROADRCKT111@aol.com
To: factory2@ix.netcom.com

I fixed it! I actually raised the needle 1 notch. I put clip in the fourth one and once the bike hits 150 degrees and above its the biggest difference I have actually ever felt with such a small mod like that. The "spot" seemed to me like a small dry spot. At least that's what it felt like. I started with the clip in #2 anyways since my elevation is average 2700 feet. The mains are exactly what the blue paper calls for. 3.5 turns out on those funky screws and #4 position on the needles. Man that thing will fly. I never thought a 600 could run like that. I rode it with the full system first and felt no real gain. Got the jetting almost right with 3rd clip spot then one more and the bike runs like a stock 96-99 gsx-r 750. I could set my 2000 gsx-r 750 on fire and let it burn. I'd rather ride my little R6 now.

THANKS!! Unbelievable gain for such little work.

Marc Hickman
---
Subject: R6 Success
Date: Tue, 31 Oct 2000 18:40:22 -0500
From: "Robert Gainer" <BGainer@compuserve.com>
To: "Marc Salvisberg" <factory2@ix.netcom.com>

Hey Marc,

Just wanted to share the final results of the R6 saga here in Maryland.......

SUCCESS!!

While I've come to the conclusion that the R6 will always require a sensitive throttle hand coming back on from closed throttle (not necessarily a bad thing), with a deft touch, I am now able to smoothly transition from closed to open throttle, and from there, look out! It
seems to prefer a smooth progressive opening, as opposed to just cranking on it, and feeding the engine smoothly, but it really starts to pull and "come on the pipe" between 4k and 5k, which is a bit lower than before, and is strong right on up......and, at 10,000 + (maybe the velocity stacks or pipe?) the front end just lifts right on up in first gear......very sweet.
And this is without the 4 degree advance or the 520 15 front tooth conversion yet......look out! I have a little throttle sensitivity when
opening up in the 5-8000 range (maybe lean a tad) , and may try raising the needles one clip.....not sure, but its darn close as is. I also am not sure if another 1/4 or 1/2 turn out on the screws would help, but I don't want to fool with it again till I ride some more. Maybe next spring.
So, I ended up with the following on my year 2000 49 state Yamaha R6 on a 70 degree day with 50% humidity at 350 ft elevation:

CRB-Y78-1.0 jetting kit to start
M4 slipon exhaust
stock air filter and box
Main Jets: 150 outer, 155 inner (stock was 152 outer, 148 inner)
Needle: 3rd clip position
Pilot Air Jet: 102's (stock was miserable pressed in suckers)
Pilot Fuel Jet: 40's (stock 38's)
Main Air Jet: Stock
Slide holes: Stock
Power Jet: Stock
Float Height: 3mm, same as stock
Fuel Screws: 2 5/8 (1 3/4 stock)

Thanks again for your help and support, and I'll be happy to do a little "advertising" for you as a satisfied customer.

Bob

---
Absolutely NO carb parts sold in California.


New and improved Suzuki Teka SFI 2

with new TPS display and "MMT" Memory Module Tuner

Finally - Quick, easy, cost effective Suzuki tuning with no expensive "add-on boxes"
Suzuki cruisers and sportbikes

Contact Factory Pro
M-F, 9am - 5pm, Pacific time, -7 or -8 GMT

800 869-0497
USA and Canada

415 883-5620

parts information
info@factorypro.com

EC997 dynamometer information
info@factorypro.com

Product Support /Tech SECTION
click here

Mailing / Shipping address:



Factory Pro
101c Roblar Drive
Novato, CA
USA

And most importantly
Restart back at the HOME page and click on the red box in the top left to find the bike that you want parts for...
restart at HOME page

This Tuning Site has been visited by

people.
www.digits.net - the oldest counting service on the web

LINKS
EFI and Carb Tuning - Most all FI and carb tuning

by Wheelsmith Racing

Flight Training - train with AMA race winner Todd Harrington.



The Harringtons own

American Flyers

, one of the most established flight training facilities in the USA.

8 locations

800-362-0808
The Rich Oliver Mystery School will help you discover your hidden inner strength.
It will challenge you. It will teach you a new way of thinking, and a new way of riding. You can take your riding to an exciting new level!

We use a variety of proven drills and training techniques.
Practicing these techniques with our Yamaha dirt track trainers will enhance your abilities both on the track or the street.

It doesn't matter what you ride or race, the Rich Oliver Mystery School improves everyone's skill level and mindset!

WW2 vintage flying Special

Book a sightseeing flight over the Wine Country or a Kamikaze aerobatic flight or a biplane flight over famous Sonoma Raceway, the Golden Gate Bridge and the San Francisco Bay for one or two during the spring and get a free souvenir t shirt!
(NEW! Ask about the P-40 flights!)

707 938 2444

Just tell them that you saw this on the Factory Pro website!
Marc
Northern California's most unforgettable flying experience. No experience required. Open weekends!

The extension of the laboratory for engines of the Swiss Federal Institute of Technology was completed in about 1935. Its architect was Rudolf Otto Salvisberg (1882-1940). He had a successful career in Berlin but returned to Switzerland after the advent of the Nazis. His architectural style was somewhat similar to that of Erich Mendelsohn. The staircase of the laboratory is in normal use but well preserved.
Edited to the tunes of Chemical Residue by Herbie Hancock.