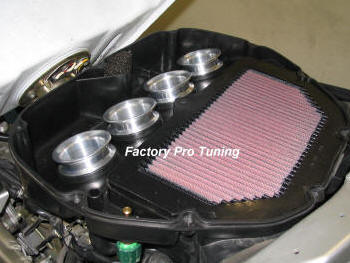 (sample pic)

pn: VEL-S64-4560
$329.95/set of 4

Billet Beautiful and a bigger power improvement than some exhaust systems gain.

800 869-0497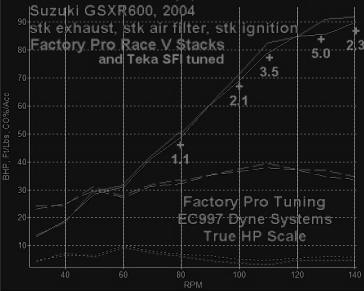 Superflare Billet V Stacks GSXR 600
04-05
(patented)
The EC997 dyno chart is in True HPtm scale.

To get dynojet HP, multiply True x 1.15 - to get Superflow HP, multiply x 1.18, to get Fuchs HP - Oh forget it! They all have the real HP number and then they inflate it so it reads higher on their dyno - expecting that they will sell more dynos if they make their dyno read higher than the other company's dyno. It so sad that some top 100 dealerships actually buy a dyno because it inflates HP more than another......
Me, being the marketing wizard that I am .... (not! :-) decided to start out telling the honest truth, years ago.
True HPtm is the actual amount of HP really delivered to the rear wheel.
It's not "dyno loading specific", it's not "apparent only on a dyno hp", it's not "only there under inertia loading" - It's real power, measured against a real, lifelike, "load" - as the bike experiences in the real world -
At least 10% of the dyno buying facilities in the USA have decided to go with honesty and real HP - using the EC997 Dyne systems as used at the best of tuning centers -
The Factory Pro Tuning Centers

You'll see them in F-USA - you'll see them as the winners of the biggest classes in WERA National Championships, you'll see them as multiple World Suzuki Cup Champions, you'll see them as the 2004 National USA Endurance Champions, too - They don't get fooled - they all use Factory Pro EC997 dyne systems for True HP.
Anyway.... the stacks.......
OK - the above dyno chart shows the power difference between a bike with stock exhaust and stock air filter, tuned to make best power with the TEKA SFI Programmer (no pc3!) and we changed just the stacks and retrimmed the fuel with the TEKA.
You can see on the 2 lower red and blue lines that we didn't change the mixture very much.

The original stock Suzuki "short" stacks have the same problem as the Graves stacks on the fi R6's - there's simply restricted airflow at high rpms to make optimal power at very high rpms - insufficient radius / flare. Interestingly, I think that they would only work well on a flow bench if you didn't duplicate the actual intake velocity and used low, typical flowbench velocities -
The results are typical for our patented v stacks - The Factory Pro stacks are shaped better than stock, so they propagate and recover the intake wave more efficiently, as shown by the "meatier" upper midrange and make more power at redline, due to the improved flow rates at higher velocities.
Actually, as it turns out, the "short" stock Suzuki stacks, after the radius problems were worked out, were "too short".
They use a shorter stack to bias the high rpm power, with poor wave rates - We used better wave rates and then we could lengthen the intake tract length to get more midrange power. We ended up with better top (flow related) and better upper mid (wave rate).
<<<<< go over there...
The eternal battle in V stack development (notice I didn't say "design") is that what works best on a flow bench is NOT what works optimally "on" an engine - and what "perfect" intake tract length "calculates" as best.... is only "best" by accidental coincidence.
There has only been one manufacturer and then, on only one of their models, (as of April,05, we've done ~20 successful v stack R&D projects) that has had a set of stock stacks that simply worked as well as they possible could - Congratulations!
But I digress........ Buy these stacks for your 600 - get the power up to competitive levels - It takes about 1/2 hour to install and it's easy to do.
They work a lot better than stock and you don't have to modify your airbox to get that 2 to 5 True HP. It's as much power gain as some exhaust systems deliver.

Hmmm..... that might be legal for AMA Supersport racing (I'm not asking)?.... You "could" call them "air jets", couldn't you? :-)
Legal for F-USA racing, AFM Production racing and they are not larger than the original inlet hole if CCS rules that way.