Well, well, well!
It's 2008 and the motorcycle dyno industry is 90%, still in a horsepower mess.
You read one motorcycle magazine and see that the new, current 1000cc sportbikes are making over 170 to 179 rear wheel horsepower on their "engineering" level dyno - Wow!!
Then you see another magazine that the same model bikes of the same brands are making 160 on another brand dyno!
Then you see another magazine test and the bikes make, even still, more different hp numbers!
Then you take your new 2006 1000 and go to your local dealership level dyno and get a less than 160 "hp" reading and then - you go to a dealership level dyno at another and get a 5% higher or lower reading than that - even on the same brand dyno!!
So - either one magazine is getting special "magazine bikes" and the other.... or..... is that it? Does the weather affect the hp THAT much? Does your bike gain and lose 5% power as temp changes 10 degrees?
Can't SAE correction factors correct for that? (yes, SAE correction factors work quite well).
Well, well - What's going on with the dynos is that some dyno companies aren't so good about calibrating their inertia dynos (even if there is an eddy current "retarder hung on the side) for accurate HP readings and some other dyno companies try to inflate their HP readings to match the wandering values of the first company..... then the new guys are trying to do the same inflation deal to match a wandering scale of the first company......
That's pathetic for the industry and it makes it utterly useless to take hp figures and compare them.
SO!
What with the HP inflation factors?
We built eddy current load motorcycle dynamometers that measured power under a load before these other guys and We had to make a physics / moral decision in the early 90's as to whether we would try to match the inflated hp numbers of the inertia dynos or...... not....
We already knew that each of these company's dynos tended to read different - up to 4% to 6% different in power readings. Even a strong magazine did a test to expose that - but the USA magazines ignored that and it seems that they have, at best, fell back onto the old "you have to use the same dyno" if you are doing development work.... So... What's that mean if they publish HP numbers that don't really equate to what you might get on your local dyno?
What's the point of confusing and disappointing the public?...
We also knew that, unless we put an 18" diameter, concrete filled, ~900 lb. drive roller on our dynos, that it's absolutely impossible to duplicate the load condition that the other company's dynos - and, therefore - since that would destroy the fine measurement ability of our systems and increase engine wear due to the increased time to get the drum up to speed so we could tune to best power - that wasn't an option - so.....
We decided to make the EC997 dyne system read out in
"True HP scale".
I never thought that I'd have to specify that our information was on a "True" scale - but - so be it!
The other dyno companies can complain all they want, but - they each have the ability to provide the real numbers and they can read out in True HP, also..... so it's their choice as to providing real or inflated numbers to a wandering scale.
True HP:
Power delivered to the patented, slotted drive roller
corrected to SAE standards.
Period.
no fluff. no bull.
If you are a potential dyno customer - and are tired of the malarkey in dyno readings -
Factory Pro is your company of choice.

Official HP Interrogator of F-USA!!
---
The Eddy Current Dyno Specialists
March was a great month - met lot's of great people - good tuners and people that will evolve from darn good to great tuners with their new Low Inertia EC997 Eddy Current dynes and Teka SFI equipment.
Gary and Jason stand out as dedicated to their work and if you know a Gary or a Jason - you might check out if they've got a new "tool" to help them help you!
On the other hand - as the yin and yang of life goes - We also met some people who weren't at all interested in why or how their product worked - or if it worked well at all!
Well - that's right, you guessed it... The EC997 showed them what was wrong and right with the product. Ooops. Crestfallen. A little bit of probing - Well, the product will never work well enough for me to say that I'd use it, as it is. And if I wouldn't use it - I wouldn't sell it, either.
Did they want to fix it? No! Wow. They just wanted to see big power increases with their product.
But with really good marketing (and, production-wise, they good at that!)- I'm sure that they can sell enough to cover some costs - but - not to me.
The "correct" parts of the concept are similar to what we've been working on for a few, long years in the Teka EMS system. Using an existing analog signal to generate a different ECU output has been around for some time now - and for a lot less than they thought that they could sell their thing for.
They had to buy a different dyno that showed them that they had a great product to sell! See it soon! I'm sure they will call it "state of the art"!
Probably in an HD or Cruiser magazine.
Lamest question regarding dynos?
"If there were two brands of dynos and there was race to see who could do a run first, who would win?"
WOW! Lessee.... Did you want to type in the customer's name? bike type? carb or FI settings?
No, just "Who could make a run first."
Exhaust? Did you want high accuracy? Just "Who could make a run first."
Repeatability? Just "Who could make a run first."
Are you trying to tune or just snag $40 from the rider or are you going to try to test and be able to help the rider make the tuning better?
Just "Who could make a run first."
Truth be told? ("they" don't!)
The EC997 dyno, in Sweep Test , takes no more than time than other dynos and less than most, if you have to load the bike (only takes 1 person), strap the bike down (1 tiedown ratchet straps both sides of the bike down evenly, 1 person), and even if you use rpm (which they don't usually).
Less time. Most of the time.
In a Step Test?
The EC997 - being tuner oriented - First - can actually do those 2-3 second powered realtime power tests easily in steady state mode (steady state is where you get the most power and gas information), unlike some "other" dynos. Imagine changing 3 different PID loop values to try to get the dyno to hold a steady rpm under load at each rpm stop point!!! (ask math teacher or "other" dyno operator who can actually do a step test) - Our owners don't even know what a PID loop is - because our EC997 dynos never need to be fiddled with!
And as far as time? Wow.
First - they'd actually have to be able to do a Steady State Test!
Repeatability? Step Tests? Ours?
As good as +/- .2 True HP when properly tuned.
Enviable in the industry. So rare that "they" say it can't be done.
The EC997 gives more information, in less time - enabling better quality work to a higher level - in less total time - with higher customer satisfaction.
If all I could ask was "How quick can I get that guys $40." and duck the "tuning" concept......
DO NOT buy this dyno.
If you think that you can't make a power commander Fuel Injection ignition or fuel change and see what happens to power so that you can spend an hour or so precisely dialing in a map for best POWER - not a auto dialing ficticious (wrong reading) "A/F Ratio" generated improperly by a short-lived, fragile, expensive O2 sensor in a half an hour......
DO NOT buy this dyno.
For less than an hour's labor - an EC997 dyno owner/operator will do a complete set of tests and provide a multi-point analysis of tuning - including:
fuel mixture at each rpm and throttle position
ignition timing
cylinder fuel stagger
engine smoothness at cruise (Flux factor)
and an estimation of possible changes and power gained.
and
The EC997 dyno owner will have gained a customer - because they provided useful information for the bike owner.
The EC997 has the ability to deliver the information to deliver the BEST possible performance - easily.
It's the ONLY dyno that can.
Tuning is my life.
I am happy to not be associated with a company that really doesn't care about tuning product quality.
March 02 was a great month!
Marc Salvisberg

Factory Pro Dyno Center locations
click here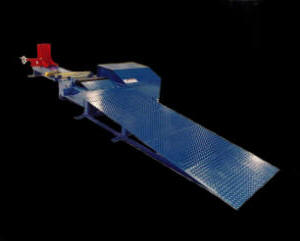 Freshly manufactured EC997 at Ohio plant
(shows standard removable 7'x3' walk up loading ramp in place. Note- ramp should be moved ~6" to left if you load on LH side of bike)
Vectrix Corporation - Alternative Power Research

EC997 Software
Windows 95/98 32 bit version
12/15/98
Programmable sweep rate range increased
(down to 2 fps/s)

manual sweep start deleted
(no more hitting buttons to start and stop test)

sweep test auto start / auto end feature added

network test view feature added
(view files on network, print to fax)

remote location file storage feature added
(store confidential files on ZIP disc?)

Wizard style test added
(auto guide)

auto path correction feature added
(auto change internal file path)

DDE data transfer feature augmented

Ultra high resolution sweep @ 1k-3k, enhanced
(useful for diagnosing fuel levels and base diameter on needles)

Default Graph Screen Window Setup added
(for easier screen layout on initial software installation)

Motorcycle Dynamometer Information
What is True Rear Wheel Horsepower tm? Click here to find out!
This web site has recently been visited by
people.
Thanks to www.digits.net for the counter.