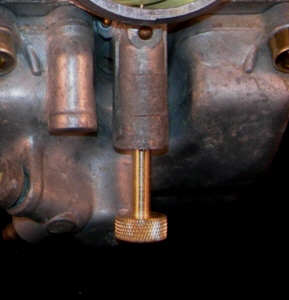 (sample pic above)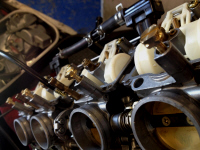 (actual 97 yzf600r "Thunder Cat" carbs)
Long Boy Fuel Screw Kit
for 97-07 yzf600r Euro and USA

pn: CRZ-SCR-3020m1-K4JH
replaces 4JH-14105-00-00
$89.95
with 4 new screws, springs, washers and o-rings

Finger AND Screwdriver adjustable extended Fuel Screws
Frustrated with trying to find an "almost 90 degree" screwdriver to fine adjust your fuel screws for best idle and cruise?
Use Factory Pro's new "finger adjustable" fuel screws to adjust fuel screws for best throttle response. Traveling to high altitude? It's easy to lean out the lowend temporarily.
Make your life easier!
Installation:
Remove old short stock fuel screws, old o-rings, old washers and old spring. The o-ring might be stuck in the carb, so, take a light and make sure it's really out if it didn't come out with the screw (or you can't find it after you took out the screw)
Use a small bent wire to pull it out if it doesn't drop out. Keep the old parts for "spares".
Extended screw assembly comes with:
4 Long Boy fuel screws
4 new o-rings
4 new washers
4 new springs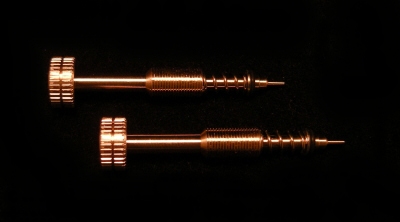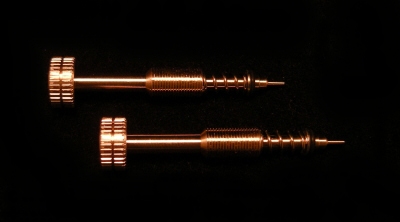 CRB-Y71-1.7-RK $199.95

1.7 RaceKit

Slightly more complex to install than our "drop-in" kit. No slide drilling.
Use with stock or aftermarket exhaust.
First choice in carb kits for this bike.
Makes best power, overall. Period. Was used by every Pro AMA and EVERY WERA roadracer at the GNF.
Absolutely the best performing kit for on and off track use. When properly tuned, this kit produces the best low-end and midrange possible - and adds 2-3hp to the top-end power. This is the ONLY kit to use for best power.
Imagine! You can still buy the trickest parts that were ever used!!!


CRB-Y71-1.0 $139.95



Drop-in Kit. No slide drilling.
Our own Celmat30 needle material. The most durable material, aside from Ti, used in a carburetor.
The kit, when properly tuned, adds more low-end / midrange and if the proper main jet is selected, more top-end power. Easy to install and tune.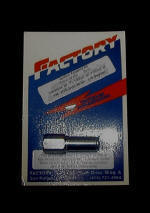 RTR-YAM-1 $89.95

This IS the kit that every top WERA / AMA racer used.
Adds more lowend, midrange and topend - and pulls better off corners - better trackday and in-town bike.
Let me say this:
There is no Ignition Advancer kit specifically for this bike.

ALTHOUGH - this RTR-YAM-1 kit contains the magic offset flywheel key that will advance the ignition timing 5 degrees.
The kit DOES NOT contain the flywheel puller that is required to remove the stock alternator flywheel A Yamaha dealership would have the 3 arm puller. And probably most shops will have a 3 bolt puller.

(sample pic)

SHFT-PRO-YAM-1 $139.95


Make shifting MUCH quicker and virtually eliminate missed shifts. This is exactly the same kit that Yamaha Racing used. Huge shift action improvement.
Trans Detent Arm Kit

The kit requires the removal of a 27mm clutch nut - so, you'll need a:
Deep 27mm socket and an Air or electric impact wrench
If you insist on not having an impact wrench, you'll need and appreciate....... A friend to hold the rear brake on while you loosen the 27mm nut while the bike is in 3rd (ish) gear.....

User's comments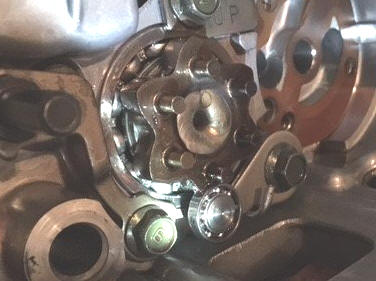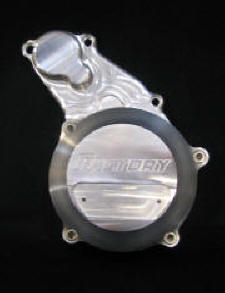 COV-Y71-RH-KT

Billet Engine Cover
RH Cover for the yzf600, complete with steel "Skidz" cover insert. Absolutely the strongest cover you can buy - and has the highest strength / weight ratio available! Individual replacement cover available direct from Factory.
$179.95
Special!
I'm out of the little Steel inserts and won't be making more -
I'll sell the cover, with stainless steel screws and gasket - but without the steel insert for
only $120.
DISCONTINUED - only have outer cover - $40

Call 800 869-0497 or email