NEW for the V Strom 650
Another great power product from the only mc focused company in the world that produces a large variety of tuning products AND supports good product development by producing the most sensitive of chassis dynamometers, the EC997 Low Inertia Dyne Systems - the same dyno system that F-USA and ASRA use to police power levels in HP limited race classes.
DL650 Billet Superflare Velocity Stacks
In just 45 minutes and regular hand tools, these new Factory Pro designed Superflare billet stacks will provide 2-3 True HP, generally even without retuning.
That's what we got when we did R&D on a stock engined DL650.
We'd expect about the same results with an DL with a street exhaust system or even a comp exhaust system.
The DL650 uses the 35/35 combination for best midrange - It's different from the SV which uses a 35/70 combination for best midrange.
The 35/35 combo on the DL gives the best midrange AND also best topend.
In other words, in the DL650, I tried longer and shorter and this is the combination that gave the best midrange. And it also gave the best topend, too.
How these stacks came into being.
There are dl650 owners who yearn for 3rd gear wheelies and enjoy a good smoky burnout - but our DL650 market research finds trending towards recreational touring and transportation usage. Since the potential market for DL650 performance might be rather small, we couldn't afford to invest in a full fledged R&D stack development program, so, when we ran into a DL650 guy with a bent towards higher performance, we went over the parts bins and found an existing rubber that would mount up to the airbox, the throttle bodies and a series of stacks that we could select lengths from.
Load dyno testing determined that "35mm" length added 2-3 hp above 6k and lost nothing below 6k.
So, that's how Factory Pro ended up with high perf parts for the DL650.
The VEL-S64-3535 stacks work well. If we invested a huge amount of money for a new series of stack that only fit DL650's, a new adapter rubber and more days of testing, we might be able to find another horsepower.

Concerning modified engines with different cams, porting or displacement.
As normal, you can't predict what length stack will work the best.... I can guess by looking at a loaded hp dyno test, but, don't send in dynojet hp runs, as inertia loading distorts the shape of the power curve, eliminating usefulness for optimal tuning.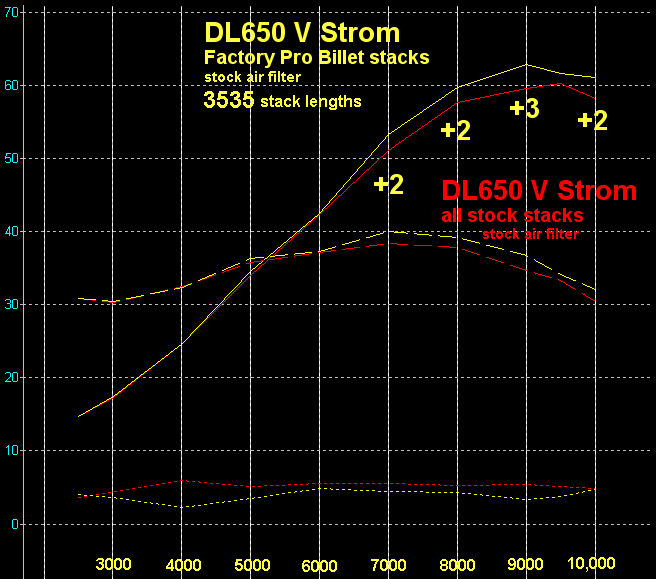 TRUE HP HP scale
(for approximate dynojet hp, inflate True hp by 15%)