Suzuki
gsxr1000 k5/k6
05-06
Factory Pro's
Teka SFI
Suzuki FI programming tool

Factory Pro's
Billet SUPERFLARE Stacks
Even more upper midrange power
Factory Pro's
Ignition Advance Kit
100% reliable advance method..
Factory Pro's
GSXR Shift STAR Kit
wicked good shifting!
Factory Pro's
Billet Engine Covers with Integrated Sliders
2x the protection.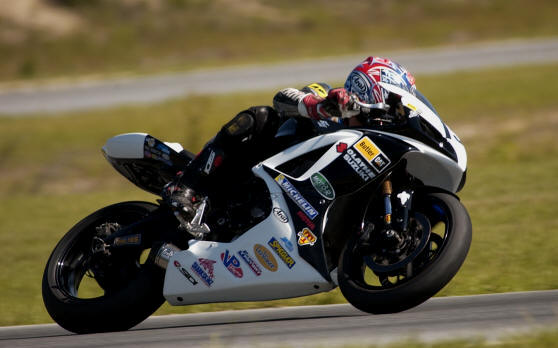 Robert Jensen, 2006 - on the way to another win!
Robert uses his own Factory Pro EC997 Dyne System with Hi Speed 4 gas EGA to develop maximum power and best smoothness -
That's what it takes to be the #1 privateer.
Factory Pro's
Shift STAR

Note:
The stock detent star seems to loosen up the bolt that holds it on, causing missed shifts - esp. 2nd gear. Your Suzuki dealer will probably warranty it (if possible) and retighten it. It's a perfect time to install our S70 Detent Star, which fits tighter and is less likely to loosen up again, like the stock star.

.....................


Daniel Garza wrote:

DAM!!!!! my hats off to the people who did the R&D on the star! Man it shifts awesome. Billy said my stock piece was already loose so it worked out great. he says hi back at you. anyways great product thanx - danny
.....................
Sent: 10/12/2006 10:31:51 PM
From: GraVitY 0
Subject: Short Shift kit * Start for '06 GSX-R 750....
*smile* Thanks, reason I asked is that I own a shift star and the arm with BB for my SV and I love it. But at the time I ordered it you needed to make more. :D
I'll be most likely calling you in the near future. Michael






Evo Shift STAR


The "Paddle Shifter" for your foot -
The Suzukis (and ZX10's, zx6's, cbr600rr's, and the Yamaha's) need help in shifting.
Specifically, the late style gsxr shift action is very flat feeling and gives very little tactile feedback as to confidence that it's really in gear or not. I hate it when you shift and you can hear the shift mechanism sort of lazily "kathwaka" into it's "maybe" final gear location. I like a confident, proper "snick"!
They had it so close to "almost good" in 99 - I'm not sure why they changed it for the "non-better".... Oh well - After redesigning and testing and redesigning and testing, and redesigning and testing...... I now see how easy it is to get it wrong, though.
We have a new detent "star" with a copyrighted profile (yep, the "science failed, so, it's artwork - so it's copyrighted) that includes a peculiar combination of compound arcs and radii that produces a shift action that makes it almost impossible to miss a shift ("almost" is the key word here!), especially 2nd gear in upshifts and all the downshifts - At least, if you miss 2nd, now, you will be REALLY surprised - cause it's now such a rare occurrence.
Downshifting confidence is 100% easier and better - just as important as not missing upshifts.

$139.95




original:
25355-35F01-RH / 25355-03G00-RH

F-Pro Shift Spring
pn: z95-S69-0201/0501

$49.95



9 F-Pro Competition Shift Spring

Miss fewer shifts. Fewer false neutrals.

Suggest the Star + Spring for best results.

Helps speed up shifting because the shift drum rotates quicker between shifts.

Combine with the F-Pro Shift Star for the sweetest results.


Marc "No missed shifts" Salvisberg
Factory Pro

marc@factorypro.com


415 491 5920

NOTE with quickshifters!
MUST shorten shift kill time BY 5ms to 15ms - or the qs shifting will be clunky.
Hybrid Ceramic Wheel Bearings


$378.55
5 bearing kit

front and rear wheel + sprocket carrier

pn: BE-HYCER-S70/gsxr1000,05-06





Hybrid Ceramic Wheel Bearings

5pc bearing set

Tough 52100 steel races, rubber seals and lightweight, almost friction free, silicon nitride ceramic balls.

Bearings are pregreased and ready to use.
Bearings have rubber seals that are easy to remove if desired.


marc@factorypro.com

Fuel Injection Tuning, Teka SFI (Suzuki Fuel Injection Tool)

The TEKA line of fuel injection products features the
Teka SFI.


Teka SFI 2
It's the Factory pro designed tool specifically designed to reprogram the stock Suzuki ECU / computer.

As compared to a power commander, Major features are virtually 100% reliability, as the reliability is the same as the stock ECU and there is no permanently mounted add-on box to fail and changes take 30 seconds and NO laptop.

Realtime tuning, no maps to lose, no problems with RF interference, no computer required to tune, no instant 1% to 2% hp loss w/ zero map, Easy to tune at the track on the pit wall, takes only about 20 seconds to make changes, easy to change during a 600 mile service, easy to tune for those new pipes your parts dept. just sold, no waiting in line for someone to non-optimally "tune to an a/f ratio", fits in your back pocket, digital accuracy, and do one, a 100 or a 1000 bikes.

Team Vesrah, Suzuki Cup World Champion Robert Jensen, Hooters Racing and many more have and use the TEKA SFi.
In fact, 5 WERA National Championships and one World Championship were won using the TEKA SFi.

In a championship race, even one power commander failure can mean winning the overall and finishing second in a years worth of work -

Tiny!
Teka MMT Module
EZ tune MMT (adj. memory module) Power Tuner

MMT Power Tuner

Before or after tuning with a Teka SFI 2,
you can use this optional module to fine fine adjust fueling with a screwdriver adjustable rotary switch.

MMT plugs right in to the bikes tuning port (same as the SFI).

If tuning with the SFI 2 / MMT combination:
The MMT is plugged into the bike, the SFI 2 is plugged into the MMT and all tuning settings from the SFI 2 are stored in the MMT and automatically transferred to the bike.
After SFI tuning, the SFI is removed and the MMT is left on the bike.
Then, for any fine tuning or adjusting after you maybe change air filters or similar or high altitude or a lot of freeway riding, you can just tweak the MMT Power Select Switch to a different number.
"5" = "as tuned with the SFI 2
"6" to "9" = incrementally richer
"4" to "1" = incrementally richer
"0" = "All zero ECU settings

If tuning with the MMT only (without custom SFI tuning):
If just installing an MMT without SFI custom retuning, just installing the MMT will allow you to adjust, globally, incrementally richer or leaner with the Power Select rotary switch.

If you first install an MMT and decide the have it custom tuned with the SFI 2, no problem.
Just plug the SFI 2 into the MMT's Tuning port and tune that perfect map.

Then, you still have the ability to "trim" map for conditions with the Power Select Switch - and you even have, by setting it at "0", to recheck how the "zero" map was in comparison to your "SFI Tuned Map".

EZ install - all stock connectors, no splicing.



VEL-S51-6060 $399.95

TECH NOTES:
On 05-06-07-08 1000's, you MIGHT have to clip / trim a bit of the plastic oil mesh housing away to clear the 60mm stack ON the #1 stack ONLY. The exact amount of trimming is not critical, it's just so that the stack rim clears the plastic wall. Trimming has been done with a Dremel (messy), a blade or nipped with a pair of dykes / diagonal wire cutters or tin snips (clean). A simple, shallow "V shaped" notch is fine. It's quick and simple and most people don't have to do it.




Recommended Superflare stacks for the gsxr1000.

Stacks and BMC RACE filter - Add up to +3.5 PEAK True HP and +5 at 7k and +6 at 10k True HP in 30 minutes.


The Factory Pro stacks on the 1000 benefit from the BMC Race filter. While the BMC RACE filter will add a bit of power with stock stacks, the combination of the FP stacks AND the filter gives a benefit greater than the sum to the 2 individual parts.

All HP figures are recorded on the EC997 Series dynamometers - The dynos that read the same - dyno to dyno.


VEL-S51-6060-SPECIAL Dimpled fits 01-06 1000.

Discontinued - dimples didn't help - But we tried!

1. Choose shipping method

2.

Hi Velocity billet V stacks with boundary layer "golf ball" dimples
available on a limited run of 01-06 gsxr1000 stacks.

complete with Factory Pro's own patented rubbers

Marc - Thanks for the stacks!

With JT MotorSports help, we mounted my stacks on my K5 GSX-R1000 after dynoed it (122 True HP - about 144 dynojet hp). The increase was instant 6HP. That's a good increase

and the torque line was so smooth.

Now, 122/128 True hp is low for a Gixxer 1000, so low that we dug into the engine. A leak down showed 120 on 3 cylinders and 125 on the 3rd - and it shold have been 148.

This lousy compression was caused by a mechanic overfilling the bike with a 1/4 and we had all kinds of issues with that, basically 200 miles of smoking and cleaning, etc.

Anyway, just wanted to update you about the positive increase. In July, we will dig into the machine and get the compression back to normal. With your stacks we should see some 150HP ...

I'll keep your updated! They sound good though! I will post something about this experience when we have the bike fixed.

Arild Mellembakken AR-Gap Rider


Tech notes on internally modified gsxr1000 engines:

Gains on modified 1000 Suzuki engines with Yoshimura or similar cams (or ported or both) seem to develop more of an improvement than expected. I've seen as much as 6 to 8 True hp (that's power measured under load on an EC997 dyne system. ( not on a dealership level dynojet dyno).

Getting better than expected results with longer cams in the gsxr1000 indicates that the engine actually wanted a shorter duration cam, but, liked the area under the curve of the longer cam.

Gains on stock engines with advanced (over stock) intake cam timing might need shorter stacks. Many good tuners have alternate lengths in stock.


Gains as measured under light loading (dynojet style) will often skew HP readings at peak, down.

This is the result of many factors, among them: improper "AFR" tuning (instead of giving the engine what it wants) and improper / unrealistic (as compared to real world material temps) combustion chamber material temperatures.


You may get even better results if the bike is retuned, using the Best Power method. For best tuning results,
Do NOT tune to an a/f ratio. - A/F Ratio tuning is a low level dealership level procedure and rarely results in optimal results.

V Stack Development Process
(by Marc Salvisberg)
These velocity stacks were originally designed using flow bench test data and then, redesigned ON the bike.
A flow bench, regardless of what many people assume, is only a measurement of airflow at a relatively slow air velocity AND only in a simplistic "steady state", constant flow rate. Steady State works great on a dyno for load (as it duplicates wind loading at speed), but Steady State air velocity on a flow bench isn't the optimal testing state for duplicating the "in / out" and "stop / go" air flow conditions of an engine. That's where a "flow bench developed" stack wanders away from optimum (except on another flow bench)
That's why you can have 2 ported cylinder heads and the one that flows "less", according to a flow bench, that makes better power.
I left out a LOT of other reasons as to why "flow bench" stacks don't work as well as "engine developed" stacks, but, essentially, the low velocity and slow air speed rates are right in there as far as plausible reasons go.

The Factory Pro Stacks have a smooth, constantly increasing divergent angle and the flare radius is the optimal complimentary dimension that gives the best "engine tested" airflow AND the best intake tract pressure wave propagation rate AND wave recovery rates.
The wave properties of a velocity stack are what makes the bike stronger when it's "on the pipe" and "airflow" is what make power at very high rpms.
They are mutually antagonistic...... (and hence the balance of dimensions of a properly designed v stack)

You can see the difference in a "flow bench" developed stack and our "engine" developed stack - Our "engine" stack will be significantly better in the powerband and will rev higher with power - without losing power at low rpm or part throttle.
The flow bench developed stack will have a very large radius, and will flow more on a flow bench, but will not be as effective on the engine at mid to higher rpms, where the large radius severely damages wave propagation and recovery strength. Less wave efficiency = less power on the powerband.

There are several other factors involved in v stack design that are even further past the wave and radius relationships and we are working on these, too. Thanks, Marc

---

A Factory Pro Tuner's kit, consisting of a range of stack lengths from 15 to 60mm, in 10mm increments, to allow the best possible tuning for modified engines, consisting of a range of sizes of stacks is available exclusively to Factory Pro Dyno Centers using EC997 dynos.
Factory Pro
If you look at 2004 WERA Suzuki Cup Finals and The Suzuki World Cup Finals - you might notice that every cup winner either has a Factory Pro EC997 dyno or has used one!!! (and third place didn't....)

Testimonials

I shopped for dynos for over 2 years. I have tuned on all of them, dynojet, Superflow , etc.
The EC997 is the best one.
Link it up with the true 4 gas EGA and I can tune around any O2 sensor derived map and you will feel the difference...not just in your wallet like all the rest. Bold statements but I have done it.....
Going in deep on that reply but what the hey - I have the best dyno.. Thanks
Charles Huffstetler
HFD1Motorsports@earthlink.net
Atlanta's #1 Factory Pro Tuning Center
www.hfd1motorsports.com


hi marc,
just like to say thanks, one of my customers dropped up his gsxr1000k4 today to have his v stacks installed that he purchased from you last week. just finished running his bike on dyno and well what can i say you guys sure make great products, the difference was really credible and another happy customer for both of us.
regards,
danny - santry motorcycles
May 15, 2005



RTR-SUZ-37-04 $89.95

out of stock

Factory Pro Ignition Advance Plate

Adding this +4 plate (the same plate as what generally works best on the gsxr600 and the alternate for the gsxr750), will generally perk up the mighty 1000 to the tune of 2-3 more True HP when measured under full load (that's the proper way to measure real world power) - but only if the stock ECU is remapped with the TEKA SFI tool. Part throttle power (power out of a corner) is also better. If one installs a pc or ems and electronically adds +4, the ignition "scatter" problems often negate the benefit of the more proper timing.

..........................

all 01-06 COV-S51-RH-KT $99.95
(Inc patented Slider!)

For Race or Street use. Absolutely the strongest covers you can buy. Highest strength / weight ratio available! Maximum protection at under 1 pound of additional weight!
More cover thickness than stock on both RH and LH side covers.

LH side - 1" slotted slider for fairing clearence.
RH side - has std. short slider that fits behind the fairing.

If you want to cut a hole in the LH fairing, order the optional "long" slider
Includes: Covers and replacement stainless steel allen screws.

Tech:
Allen screws supplied: 8 x 25mm for our thinner cover (more corner clearance) and 3 x 25mm for the alternator stator mounting. If you use the stock 30mm stator screws, the stator will knock when the engine warms up - as the 30mm screws bottom before the stator is tight.


Hi Marc,

I ran Factory Pro engine covers on my rookie season in 2005 as a Novice rider with the CMRA. As you know us rookies tend to crash a bit more than others. I'm sure I'm not the first to say the covers and sliders ROCK! On several lowsides throughout the season the bike slid on the sliders and never once tumbled. I contribute this to the position on the slider on the bike. Friends with conventional sliders found the slider digging in and flipping the bike causing much damage. Needless to say, my season ended in one Championship and two 3rd places. CMRA seen fit to bump me to expert in 2006. I purchased two brand new GSXR's and have already installed Factory Pro covers on the one through RaceworX in Dallas. Unfortunately I had the chance once again on December 20th at MSR Houston to test them out. Once again they performed great!!!! The bike slid on the slider. Beside a few scrapes on the plastic the bike was not damaged.

With this said I feel like I could represent your product with much confidence! If you offer a support program I would be glad to participate. As I said, I have already purchased a set for the Superbike. I'm only in need of a left side stator cover for the 06 GSXR 1000. Attached is a copy of my resume along with a rendering on the new paint scheme for the 2006 season.

I feel the your product has saved me a ton of $$$$ in crash repairs over the past season.

I
Thanks again,

Marv Esterly

CMRA #496 Expert





Teka EMS - EFI/Ignition .

The TEKA EMS EFI/Ignition system is a permanent add-on box that modifies the FI sensor or ignition coil outputs after leaving the stock ECU - in order to modify ignition timing and cylinder fueling for increased power.
Direct Sensor Control.

research
TECH Information:
MYTHBUSTERS! Myth is TRUE!!!!
In top gear:
Clutch safety switch permanently jumped at harness rev limit:
rev limit ~13,200.
Clutch safety switch in normal location, start in neutral, rev limit:
at first, slightly over 13600, then, 13400 to 13500
Verified:
June 01, 2006
Teasdale, Barry
pn: RTR-SUZ-37-XX - ignition mount plate install and tech

application:
gsxr600 99-05 (06-07 is same part, but it's mounted in the RH engine cover)
gsxr750 98-05 (06-07 is same part, but it's mounted in the RH engine cover)
gsxr1000, 01-07
tools required:
5mm allen wrench
#2 philips screwdriver
medium flatbladed screwdriver
Razor blade or Exacto knife
gasket sealant
14mm socket
air wrench

A look in.

Location of ignition trigger mounting plate on:

gsxr600, 97-01 (and similar)
gsxr750, 96-01 (and similar)
gsxr1000, 01(and similar)

1. Remove the outer "palm sized" small starter cover (already removed).

2. Remove the inner, larger starter clutch cover (already removed). Remember, there is a screw in the upper left of the inner cover that is not accessible until the small, outer cover is removed. You will probably reuse the gasket

3. Remove the starter clutch bolt with a 14mm air wrench (that's the easiest and quickest way).

4. Remove the original ignition plate from the engine cases with a #2 Phillips screwdriver. (it's under the starter clutch gear)

5. With a flatbladed screwdriver, remove the ignition trigger coil from the original mounting plate and reinstall it onto the new Factory Pro ignition plate.
Be careful NOT to stab yourself with the screwdriver!

Note: The gold center core plate (at B, down arrow) of the coil assembly MUST extent "proud" of the surrounding off-white epoxy area when installed and tightened. There is a small amount of play to adjust with, and it must project outwards, towards the ignition rotor, usually ~.005" to .010". (In other words, a real little bit)
If the center core is below the off-white surrounding area, the voltage produced will detrimentally affect the ignition system and make the engine difficult or impossible to start.

6. After installing the trigger coil to the ignition plate, temporarily reinstall the starter clutch and bolt and rotate the engine so that rotor projection at B, up arrow is aligned with the trigger coil (so you can measure the trigger coil clearance).

7. Install A-1phillips screw, snug. Install A-2 Phillips screw and snug down.

8. Measure the clearance at B. It should be .015" to .020". Adjust by loosening A-1 and A-2 and pushing the plate towards the rotor. Tighten screws when done.
Notes:
1. .040" pickup coil to ignition rotor clearance will make the engine difficult or impossible to start.

2. So - you cracked the magnet because you didn't line up the locating hole......
It's OK - just put the 2 pieces together and retighten the 2 flat bladed screws. Lucky you!





Question: If .040" clearance will make the engine difficult to start, and .020 starts well, is .010" better? Haven't had time to test that, yet...


9. Check the tightness of the coil plate screws, reinstall the ignition plate. Use a bit of light strength thread locking compound on the screws if you want, for a good job.

10. Reinstall the starter clutch and mounting bolt. BE SURE to line up the indexing marks on the crankshaft end and the starter clutch or the TDC marks will be wrong and that could cause big problems if using the TDC marks to adjust the valves later.....

11. Reinstall the covers (don't forget the screw under the small cover). Replace or reseal gaskets as necessary.

12. You should not have any parts left over, except for the old ignition plate.
True Rear Wheel HP measurement on the EC997!
Links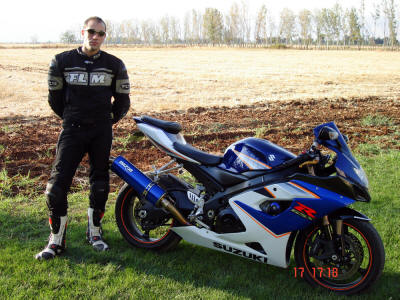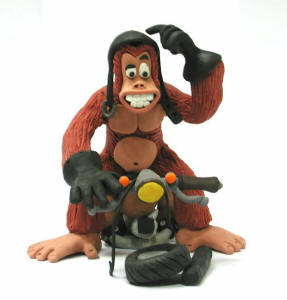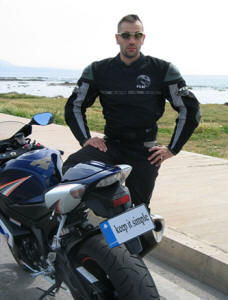 Souhaib Balaa, Lebanon, 2006 gsxr1000
Just post 2006 war, out in the country.
Souhib Balaa is one of Lebanon's most prolific Claymation artists (remember "Gumby" stop action?) and does all of his own motorcycle work, too.


Willow Springs Raceway
northbound / 4500ft / PA28-140 / N111FR
Sunday 2pm, December 28, 2003
Return from first night (or day) flight into Los Angeles - DVO - (Chino) / CNO
Yep! That WAS me flying over the track. I saw you and I waved back!
---
Contact Factory Pro
M-F, 9am - 6pm, Pacific time, -7 or -8 GMT

800 869-0497
USA and Canada
415 883-5620

fax 415 492-8803
parts information
info@factorypro.com
EC997 dynamometer information
info@factorypro.com
Product Support /Tech SECTION
click here
Mailing / Shipping address:
Factory Pro
179 Paul Drive
San Rafael, CA
USA
And most importantly
Restart back at the HOME page and click on the red box in the top left to find the bike that you want parts for...
HOME
Factory Pro / AMA May Special!

Book a sightseeing flight over the Wine Country or a Kamikaze aerobatic flight or a biplane flight over Infineon Raceway for one or two riders during the month of May and get a free souvenir t shirt!

Just say that you saw this on the Factory Pro website!
Marc

Northern California's most unforgettable flying experience. No experience required. Open weekends!
Power Commander Ignition Module Notes
In my experience, the $350 Power Commander Ignition module "says" +/- "10", but it really only seems to change the ignition timing about +/-2 degrees (as of at least 10/2007). This was backed up by a DJ importer's experience.
According to a customer, dj told him that ignition timing, doesn't affect power very much.
That's just "eye rollingly" WRONG.
Factory Pro has over 30 years of research and development in high accuracy tuning in general and 20 years in producing Ignition Advancers (which REALLY DO change the ignition timing!) and we've been producing dynamometers that read to .1 and .2 HP increments.
Testing on real load dyno, under realistic load, multiple DJ Ignition Modules on 600's and 1000's show that DJ +10 to DJ -10 "DJ degrees" equals less than a 1% to 2% HP spread!.
Now, come on! :-) How could you change ignition timing a supposed "TWENTY DEGREES" and only affect the HP by 1% to 2%????
You can't change the ignition timing 20 degrees and only affect the power by a couple percent - That's an obvious fact.
If you had "Best Power" ignition timing set and you retard or advance the timing a REAL 10 degrees, the bike world hardly run, losing around 10% - 20% True HP if you retarded it.
if you advanced it a real 10 degrees, you'd lose a bunch of power, too and also, likely, give it fits of detonation.
Now - I'm still perplexed about the guy who posted that he gained 7 HP on his dynojet dyno with a "+5" setting on his DJ Ign Module! - (I'll reserve comments, for once).....5 DJ degrees / ~1 REAL degree = 5 hp??? <roll eyes emoticon>) and also perplexed about the ignition map that I got from a DJ sponsored Yamaha Race team that showed +1 and +2 and -1's in their "official" R6 map! Lessee? They changed the ignition timing a miniscule real .2 degrees and they could see that hp change????? Fantasy.........
The R6? It actually wanted more than 10 "dynojet degrees" at almost every part throttle position for Best Power settings and all of the full throttle settings ended up at +5 to +10 "dynojet degrees". Compare that to the zero settings at full throttle that were supplied and the +1, +2 an +3 "dj degree" settings that were supplied.
A significant ignition timing change that power can be measured would MAYBE be a real 1 degree - but you can only measure the HP change if the fuel mixture is absolutely PERFECT for Best power (NOT to misleading dealership level "AFR tuning") already -
Normally, a REAL 2 degrees ignition timing change will change the power (on a Perfectly fueled engine) by about 1%.
(example 100 True HP > 101 True HP if a "good direction change" OR 99 True HP if it was "the wrong direction change").
So - the only reason to run a DJ Ignition Module is to use a DJ Quickshifter (until the TEKA 4 QS upgrade is released)
the DJ Ignition function is, otherwise, essentially $350 useless cost.
When tuning on and EC997 dyno, (which has the capability of measuring .1 to .2 HP changes), essentially, there are only a couple of DJ Ign Module settings:
Zero
+ or - 5 Dynojet degrees or
+ or 1 10 Dynojet degrees
Don't expect huge HP changes - as, as described above, you'll see 1 or 2 hp at best.
So - what does that tell you?
That you need to do testing on a high quality dyne system, like the Factory Pro EC997 .
Then, you too, can learn all these "unpopular" facts!
Like inertia HP isn't real HP in the real world, dj hp numbers are bogus, tuning to an AFR for best performance is a myth....
(I'm sure that the guy who got "7 DJHP" with a real 1 degree (aka: 5 Dynojet degrees) isn't my buddy right about now, though....)

Best regards - Marc