Honda cbr929rr, 00-01
Factory Pro Series "H92"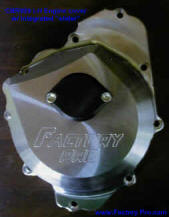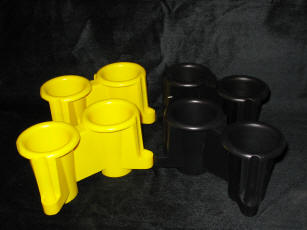 SHFT-EVO-H21/929-KT $239.95

star, arm and spring. no clutch cover gasket required.

Add $20 for Hybrid Ceramic microbearing

EVO Shift STAR kit

The STAR, ARM and SPRING kit.

The pro rider's "Night and Day" Advantage

You want easier and quicker upshifts, decreased shift lever travel, fewer missed shifts and wickedly quick downshifts?

We all do -

This is the kit that makes the difference.
Track and street.

........................................

Note about quickshifters
You must set your quickshifter kill time 5mm to 10ms quicker or the shifting will be clucky on the track.

.......................................................

Kit includes the new Factory Pro designed Shift Kit, a new Factory Pro detent arm with a low friction microbearing roller, a new Factory Pro shift spring and the NEW Factory Pro EVO Detent Star.

Make shifting MUCH quicker. MUCH easier, MUCH lighter and virtually eliminate missed shifts.

Marc 800 869-0497

Ignition Advance Rotor


Ignition Advance Rotor

RTR-HON-92-06 $99.95

requires FI retuning


This simple, bolt-on advance kit advances the timing. With stock engines with stock compression ratios, there is more power everywhere. Part throttle power is better - helping corner exit speeds. Improved in-town driveability and quicker warmup.
We gained almost 2 HP on top - along with better snap and cruise power. Mileage will probably improve, too. Works where power commanders don't.
Simple to install - RH engine cover gasket is NOT supplied - so get a spare before you remove RH engine cover!


(This shows all Factory Pro add-ons)


RA-VEL-H92-80




$499.95

not in stock

Add 2-3 TRUE HP at Peak - no loss of low-end

929 "Short Stacks"

Special V Stacks from Factory Pro - Shorter for more topend end power - more efficient for no loss of lowend and midrange!
These are individually molded in lightweight but durable injection mold quality plastic.

Adds 2-3 True HP on top.
Easiest way to improve performance - Lucky someone thought of investing the time and energy and money to explore!
No loss of midrange!

These stacks are NOT to be confused with fireblade.org posts about a set of cut, unflared, stock stacks.
And if someone can't properly tune a power commander for best power rather than to a bogus "a/f ratio - that's just sad for the industry.
They make more power - it should help top speed (unless you hit the rev limit already!!)

All the tests that we did with the stacks were not even remapped - a dead, stock, 49 state ECU. So - if someone reports a power loss on a stock, unrestricted engine ( "cammed" or big bore, ported modified engines may require a different length) - it's because the tuner tuned it right into a HP hole - likely the result of tuning to an a/f ratio as derived from an O2 sensor.

User feedback - click here

V Stax Feedback

Date 02/01/04
Sender: Dave Hebert
Subject: V Stacks

I have a 02 CBR 954 and just put your velocity stacks and +4 ignition advance on the bike, seat of the pants impression is WOW.
That's about 2-3 peak HP and 3-4 at different parts of the part throttle power.

Now I am thinking of putting a BMC race filter on the bike, but I have a couple of questions.
Is the race version suitable for the street and does it offer as good of filtering as the street version?
In dusty areas - I recommend stock or STREET BMC version.

If I install the race filter will it lean the bike out enough to hurt the motor ?
No. Not unless the fueling is way far off - Many PC maps for the 954 are too rich anyway - as tuning to an "A/F Ratio" rather than tuning to Best Power will likely do that.

The bike has a PC111 on it and a Hass HTEV Eliminator with a Akro can , running a Hass map.
If I get down to sunny Calf. how much would it cost to get the bike tuned, and what would you do?
Depends on whether I find that airplane I'm looking for! :-) As of now, if I do the custom stuff on a pc, it'd be $425 -

Thanks a lot, looking forward to your reply,

Dave Hebert
email dheb@charter.net


Billet Alloy Engine Cover - now with integrated "slider"



COV-HON-92-LH

discontinued

Transmission Shift Improvement Kits
Air Filters,

Street

and

Race

series





BMC

air filter system


FI-BMC-23911R
$59.95

Factory Pro BMC "Race" Filter
Designed by the same Italian craftsmen that developed Ferrari's F1 Air Filters - this filter filters well, flows more air and lets the engine make more power than the stock air filter. Suggest that FI will need to be remapped.


Cleanable

BMC

air filter systems (avail. direct from Factory Pro) for more power -

click here

for more information.

User feedback -

click here

True Rear Wheel Horsepower scale - difference between other scales.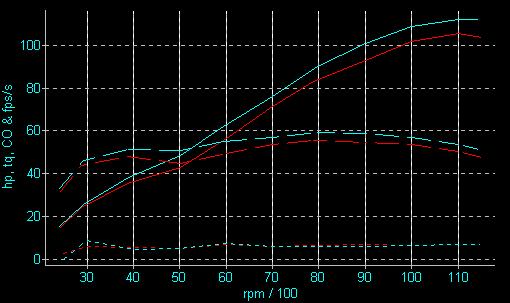 cbr929, 2000, owner: Brent Burzycki
improvement = + 7.6 True HP
TBR Exhaust and stock, unmodified FI system
TBR exhaust (blue) 113.3 True HP
stock exhaust (red) 105.7 True HP
---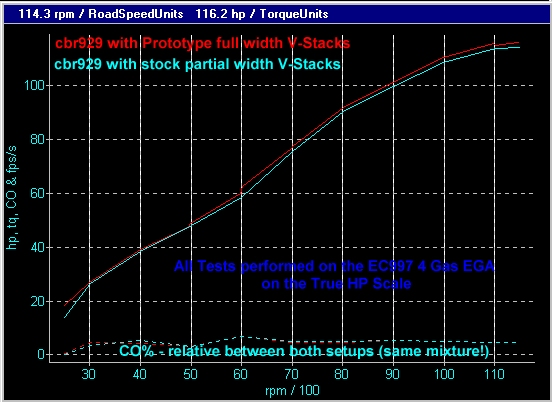 cbr929, 2000, owner: Brent Burzycki
stock stacks (blue) 113.3 True HP
Full Width Short Stacks (red) 116.2 True HP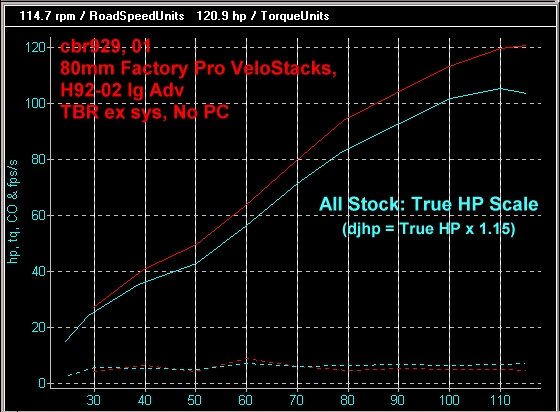 ~15 True HP improvement.
---

Links
Tech Notes:
929 and similar -
If the 1 and 4 cylinders consistently get fouled after the bike sits, try swapping the injectors and see if the problem follows the injectors.
If the fouling problem stays on cylinders 1 and 4, then, it's likely that the Fuel Pressure regulator is bad and leaking fuel through the 1 and 4 vacuum lines.
You can start the bike, then remove the vacuum lines and see the fuel leaking the pressurized fuel -
Thanks to:
Solo Moto
Greenwich, CT
203 531-5252
From: "Wally Kilburg" <
wkilburg@starband.net
> Tue 3:31 PM

Subject: 929 stacks

To: <info@factorypro.com>

Marc;
I had installed the velocity stacks the day after I had gotten them but the weather prevented me from test riding the bike to see if the Seat Of the Pants dyno could tell any difference. Today it hit 61 degrees in Chicago, test time!

Got out this afternoon and after a spin around town in traffic to warm things up, I was out on one of the back roads in near flat farm country where I can see for miles, no place for cops to hide and no turn ins, side roads or driveways for 5 miles. Good road surface too.

I cannot guess why Honda does not do this thing with the stacks from the factory. The combo of the BMC filter and those velocity stacks is like night and day. Good god is this thing fast now! In third gear clipping along at 106-110 indicated, a twist of the throttle makes the front get awful light!
I'm not sure if the wheel is off the ground a bit or not but the forks unload and I'm over the tank, in a tuck, with a huge smile in my helmet. It feels much faster across the normal riding range. I'm searching for a dyno to get some runs and a curve to check out.
Wish i was closer to California.

Thanks for the advice on the 929. Next weekend I will have time to install the +2 timing rotor and we'll see what that does. Take care and thanks again.

Wally Kilburg

P.S. Tested the Mille and the new chip too. It feels "different". I had to back the idle about 800 rpm, it was idling close to 2000. Throttle response is good but the massive engine braking seems to be lessened. Need more time to play and ride it.

Absolutely NO carb parts sold in California.


New and improved Suzuki Teka SFI 2

with new TPS display and "MMT" Memory Module Tuner

Finally - Quick, easy, cost effective Suzuki tuning with no expensive "add-on boxes"
Suzuki cruisers and sportbikes

Contact Factory Pro
M-F, 9am - 5pm, Pacific time, -7 or -8 GMT

800 869-0497
USA and Canada

415 491-5920

fax 415 492-8803

parts information
info@factorypro.com

EC997 dynamometer information
info@factorypro.com

Product Support /Tech SECTION
click here

Mailing / Shipping address:



Factory Pro
179 Paul Drive
San Rafael, CA 94903
USA

And most importantly
Restart back at the HOME page and click on the red box in the top left to find the bike that you want parts for...
restart at HOME page

This Tuning Site has been visited by

people.
www.digits.net - the oldest counting service on the web

LINKS
EFI and Carb Tuning - Most all FI and carb tuning

by Wheelsmith Racing

Flight Training - train with AMA race winner Todd Harrington.



The Harringtons own

American Flyers

, one of the most established flight training facilities in the USA.

8 locations

800-362-0808
The Rich Oliver Mystery School will help you discover your hidden inner strength.
It will challenge you. It will teach you a new way of thinking, and a new way of riding. You can take your riding to an exciting new level!

We use a variety of proven drills and training techniques.
Practicing these techniques with our Yamaha dirt track trainers will enhance your abilities both on the track or the street.

It doesn't matter what you ride or race, the Rich Oliver Mystery School improves everyone's skill level and mindset!

WW2 vintage flying Special

Book a sightseeing flight over the Wine Country or a Kamikaze aerobatic flight or a biplane flight over famous Sonoma Raceway, the Golden Gate Bridge and the San Francisco Bay for one or two during the spring and get a free souvenir t shirt!
(NEW! Ask about the P-40 flights!)

707 938 2444

Just tell them that you saw this on the Factory Pro website!
Marc
Northern California's most unforgettable flying experience. No experience required. Open weekends!

Marin French Cheese Co., also known as The Cheese Factory and Rouge et Noir is not just the oldest cheese manufacturer in the country, but a vacationers and day trippers destination as well as a unique part of American History. Located north of San Francisco, east of Napa County, west of Pt. Reyes and Olema and south of Sonoma County, Marin French has produced hand crafted Artisan soft ripened cheese since 1865. Rouge et Noir cheeses are similar to French and European varieties but reflect the characteristics of Northern California, producing it's own regional style.
The extension of the laboratory for engines of the Swiss Federal Institute of Technology was completed in about 1935. Its architect was Rudolf Otto Salvisberg (1882-1940). He had a successful career in Berlin but returned to Switzerland after the advent of the Nazis. His architectural style was somewhat similar to that of Erich Mendelsohn. The staircase of the laboratory is in normal use but well preserved.
Edited to the tunes of Chemical Residue by Herbie Hancock.
| | | | | |
| --- | --- | --- | --- | --- |
| Â Â Â Â  | | | | |
| | my 4 stroke bible | | | |