Hitachi emulsion tubes / needle jets
Factory Pro manufactures stock replacement, nickel plated, emulsion tubes for 750 and 1000 and 1100 XV Virago and maybe the 920 (that's why we supplied dimensions)
Yamaha

XV750

Hitachi
Factory Pro nickel plated replacements in stock

oem #
4X7-14921-32-00 83 xv750

and all xv75 0 with Hitachi carbs.
CRZ-EMU-XV750

for Hitachi carbed 750 bikes

$72 / 2pcs

Yamaha

XV920

Hitachi
Factory Pro nickel plated replacements in stock

oem #
10L-14921-32-00 83 xv920k
4X7-14921-32-00 81-82 xv920r

and all xv920 with Hitachi carbs.
(Thanks, Jim!)
CRZ-EMU-XV920

for Hitachi carbed 920 bikes

$72 / 2pcs

Yamaha

XV1000
XV1100

Hitachi

Factory Pro nickel plated replacements in stock

oem #
42h-14921-32-00 84 xv1000

and all xv1100 with Hitachi carbs
CRZ-EMU-XV10/11

for Hitachi carbed bikes
$72 / 2pcs
Hitachi "Emulsion" Tubes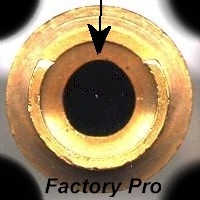 This is enough wear to cause problems.
This is a picture of the needle jet area of an emulsion tube from a stock 38mm CV Mikuni carb as installed on Ducati, Yamaha TDM/TRX 850, YZF750, FZR1000, etc..
It has approximately ~5000 miles or 8000k usage on a Ducati or TDM 850 - WITH A STOCK Aluminum NEEDLE

.



Notice that the center hole is noticeably worn at the "V", the 12 o'clock position, which would be towards the engine, as installed in the carburetor.
This causes 2 conditions. First, it allows more fuel to enter the carburetor, as in using a needle with a small base diameter AND the fuel that enters the carb - it enters in larger droplets, resulting in poor combustion.

We carefully check needle jet condition on the vehicles when we create and install carb recalibration kits.
If you install a kit and it is much too rich at low rpm, and lowering the fuel level 1mm doesn't fix it, check the needle jets for any wear - it's not uncommon.