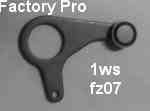 (sample pic only)

SHFT-ARM-Y84-C $139.95

inc. Hybrid Ceramic Microbearing detent arm

...............................................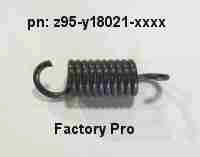 STRONGER and heat treated F-Pro shift spring.
pn: z95-y18021-0080
$49.95

Pro Shift Kit
The arm and spring kit. (NEED TO BUY SEPARATELY)
F-Pro Hybrid Ceramic Microbearing Detent Arm
F-Pro Shift Spring.
Makes shifting more positive.
Virtually eliminate missed shifts - both up and down.
The stronger detent spring rotates the shift drum quicker, so the gears are more likely to engage under quick shift conditions.
The Microbearing removes friction for the quickest shifting short of an air shifter.

This kit helps prevent 2nd gear missed shifts that 1000's are prone to when shifted quickly. Missing 2nd gear under hard acceleration will bend the shift fork - making subsequent shifts into 2nd gear even more inconsistent.

Help decrease excess wear with this kit.