Yamaha YZF1000, 97-01
Thunder Ace
97-98 US and 97-01 Euro
part number
description

CRB-Y76-1.0 $139.95

Boosts power a bit at full throttle, improves throttle response - especially at low rpm and part throttle, smoothing power delivery. Engine runs a bit cooler and smoother. No slide drilling required.
Use with a stock air filter, BMC air filter or Uni or K&N stock replacement air


CRB-Y76-1.1-ti $169.95

The same as 1.0 kit, but with Titanium needles, drop-in kit.


FI-BMC-17807S
BMC Air Filter$44.95
Cleanable, reusable BMC filters feature more surface area than other filters for less intake restriction and up to 2hp additional on the FZR1000 as compared to other cleanable, gauze type filters.



SHFT-PRO-YAM-4 $139.95
(add $20 for Hybrid Ceramic Microbearing)

inc. Microbearing detent arm, F-Pro shift spring and clutch cover gasket.

Includes Factory Pro Microbearing Detent Arm, heavy duty detent spring and gasket. Makes shifting more positive at the expense of slightly stiffer shift lever action. The stronger detent spring rotates the shift drum quicker, so the gears are more likely to engage under quick shift conditions. The Microbearing removes friction for the quickest shifting short of an air shifter.
This kit helps prevent 2nd gear missed shifts that 1000's are prone to when shifted quickly. Missing 2nd gear under hard acceleration will bend the shift fork - making subsequent shifts into 2nd gear even more inconsistent.
Prevent excess wear with this kit.
Note! SOME pre-production Thunder Aces were equipped with a "flipped around" ball bearinged detent arm. Not all of them, though. Last time I checked, Yamaha US was not aware of that and had no documentation indicating that the shift detent mechanism was any different from the earlier 1000's and 750's. Interesting!
When I ordered a ThunderAce stock detent arm, I got the same detent arm as the others. Even did it twice! Same early style arm, twice.
So, what I can say, is that if you have a ball bearinged arm originally, don't buy this kit - use the SHFT-YAM-4 only. Sorry - that's the best I can do - Marc

SHFT-YAM-4 $59.95

STD transmission detent spring kit

Includes Heavy duty detent spring and gasket. Makes shifting more positive at the expense of slightly stiffer shift lever action. The stronger detent spring rotates the shift drum quicker, so the gears are more likely to engage under quick shift conditions. Especially helpful in decreasing the 2nd gear and shift fork wear that the FZR1000's are known for.
This Carb Recal Kit developed on the same EC997a Eddy Current dyno that developed the K59-1.7-RK ZX6r RaceKit (Muzzy and Kinko's choice), the Y73-1.7-RK YZF750 (Vance and Hines choice), S37-1.7-RK GSXR750, Suzuki of France and most of America's privateer racers choice)...

Low Inertia EC997 Eddy Current Dyno in operation in Switzerland at Pichard Racing
Factory Pro Tuning Centers
click here!
---
Links to Thunder ACE Sites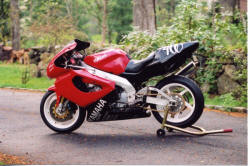 Marc, I was nice talking with you this evening (still sitting here with the floats). When you agreed to receive a picture and some data it made me finally sit down and put this stuff into print, as opposed to scattered everywhere. As I said the bike has been a real joy for me. When I bought it as my second bike I still couldn't ride very well. I was constantly scaring the crud out of myself. A wonderful friend bought me a gift certificate to the California Superbike School and that changed everything.
I decided to make a bike that could out-perform my abilities and as the picture shows I created something special. When I started to ride it it was crazy how well it handled and made power although the engine work came later. Every weekend I practiced and then this last year I decided to race; just for fun. I realized I was pretty competitive. The bike took a beating but I still love to ride it (yes it's straight) and people still drop their jaw when they see it, especially after watching it go through a corner. :)
My last race at Loudon was easy going until a ZX10 rider got into his groove. The old YZF held it's own but the power problem I was telling you about caused me to just let him go, but after the race he was certainly confounded as to why he didn't just leave me in the dust. That was the best part.
Turns out I did cut the graphics for the Factory Pro lettering but never put them on, so I sent you a large image to doctor with Photoshop. I figure you can put the lettering right on the red side panel (since there isn't anything there). I have a much better picture at the track but I'll have to scan that in tomorrow.
Thanks for the info on the carbs and I'm going to cross my fingers. This cliff in performance at low revs and large throttle makes the bike unrideable. Like I said it feels like someone has filled a cylinder with water when you open it up.
I'll let you know how everything turns out.
Alan D. Gardner
Senior Engineer
Thermion Systems Intl
611 Access Road
Stratford, CT 06615
USA
Absolutely NO carb parts sold in California.


New and improved Suzuki Teka SFI 2

with new TPS display and "MMT" Memory Module Tuner

Finally - Quick, easy, cost effective Suzuki tuning with no expensive "add-on boxes"
Suzuki cruisers and sportbikes

Contact Factory Pro
M-F, 9am - 5pm, Pacific time, -7 or -8 GMT

800 869-0497
USA and Canada

415 883-5620

parts information
info@factorypro.com

EC997 dynamometer information
info@factorypro.com

Product Support /Tech SECTION
click here

Mailing / Shipping address:



Factory Pro
101c Roblar Drive
Novato, CA
USA

And most importantly
Restart back at the HOME page and click on the red box in the top left to find the bike that you want parts for...
restart at HOME page

This Tuning Site has been visited by

people.
www.digits.net - the oldest counting service on the web

LINKS
EFI and Carb Tuning - Most all FI and carb tuning

by Wheelsmith Racing

Flight Training - train with AMA race winner Todd Harrington.



The Harringtons own

American Flyers

, one of the most established flight training facilities in the USA.

8 locations

800-362-0808
The Rich Oliver Mystery School will help you discover your hidden inner strength.
It will challenge you. It will teach you a new way of thinking, and a new way of riding. You can take your riding to an exciting new level!

We use a variety of proven drills and training techniques.
Practicing these techniques with our Yamaha dirt track trainers will enhance your abilities both on the track or the street.

It doesn't matter what you ride or race, the Rich Oliver Mystery School improves everyone's skill level and mindset!

WW2 vintage flying Special

Book a sightseeing flight over the Wine Country or a Kamikaze aerobatic flight or a biplane flight over famous Sonoma Raceway, the Golden Gate Bridge and the San Francisco Bay for one or two during the spring and get a free souvenir t shirt!
(NEW! Ask about the P-40 flights!)

707 938 2444

Just tell them that you saw this on the Factory Pro website!
Marc
Northern California's most unforgettable flying experience. No experience required. Open weekends!

The extension of the laboratory for engines of the Swiss Federal Institute of Technology was completed in about 1935. Its architect was Rudolf Otto Salvisberg (1882-1940). He had a successful career in Berlin but returned to Switzerland after the advent of the Nazis. His architectural style was somewhat similar to that of Erich Mendelsohn. The staircase of the laboratory is in normal use but well preserved.
Edited to the tunes of Chemical Residue by Herbie Hancock.