The TEKA line of fuel injection products features the
Teka SFI 2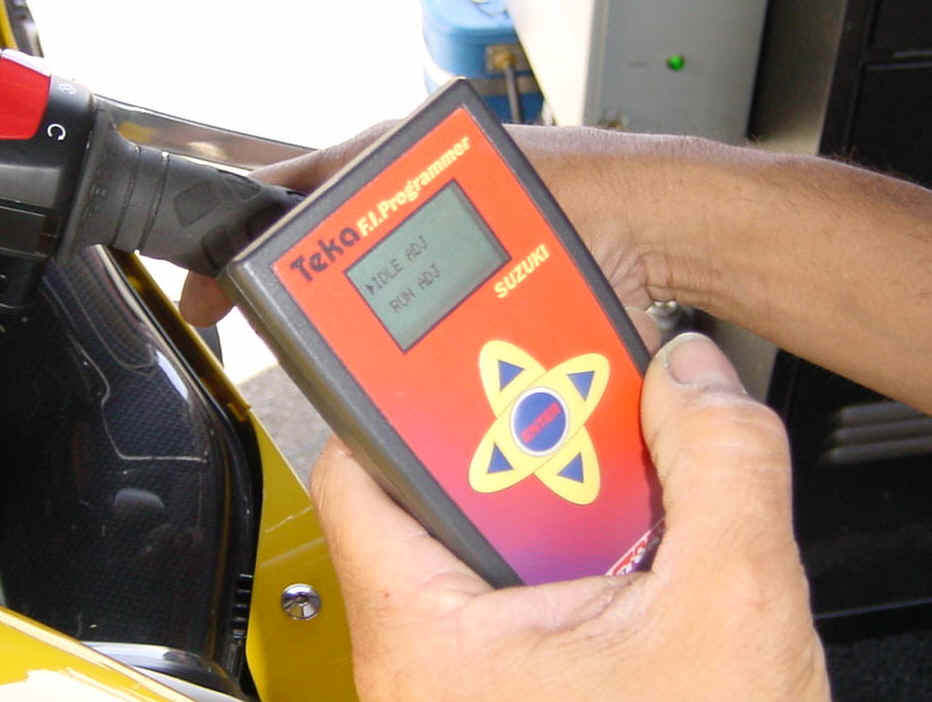 $395 (demo unit)
basic tuning tool only - accessories extra

It's the Factory pro designed tool specifically designed to reprogram the stock Suzuki ECU / computer.
Works great on the 109!
(too!)
As compared to a power commander, Major features are virtually 100% reliability, as the reliability is the same as the stock ECU and there is no permanently mounted add-on box to fail and changes take 30 seconds and NO laptop.
Realtime tuning, no maps to lose, no problems with RF interference, no computer required to tune, no instant 1% to 2% hp loss w/ zero map, Easy to tune at the track on the pit wall, takes only about 20 seconds to make changes, easy to change during a 600 mile service, easy to tune for those new pipes your parts dept. just sold, no waiting in line for someone to non-optimally "tune to an a/f ratio", fits in your back pocket, digital accuracy, and do one, a 100 or a 1000 bikes.
Team Vesrah, Suzuki Cup World Champion Robert Jensen, Hooters Racing and many more have and use the TEKA SFi.
In fact, 5 WERA National Championships and one World Championship were won using the TEKA SFi.
In a championship race, even one power commander failure can mean winning the overall and finishing second in a years worth of work -
M109r Tech
Teka SFI 1 and SFI 2 connector is neatly stowed under the left frame side cover. - tale 2 minutes to connect.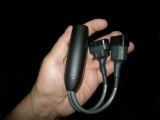 Teka MMT Module
EZ tune MMT (adj. memory module) Power Tube
$50
MMT Power Switch
After tuning with a Teka SFI 2,
you can use this optional module to fine fine adjust fueling with a screwdriver adjustable rotary switch.
MMT plugs right in to the bikes tuning port (same as the SFI).
If tuning with the SFI 2 / MMT combination:
The MMT is plugged into the bike, the SFI 2 is plugged into the MMT and all tuning settings from the SFI 2 are stored in the MMT and automatically transferred to the bike.
After SFI tuning, the SFI is removed and the MMT is left on the bike.
Then, for any fine tuning or adjusting after you maybe change air filters or similar or high altitude or a lot of freeway riding, you can just tweak the MMT Power Select Switch to a different number.
"5" = "as tuned with the SFI 2
"6" to "9" = incrementally richer
"4" to "1" = incrementally richer
"0" = "All zero ECU settings
If tuning with the MMT only (without custom SFI tuning):
If just installing an MMT without SFI custom retuning, just installing the MMT will allow you to adjust, globally, incrementally richer or leaner with the Power Select rotary switch.
If you first install an MMT and decide the have it custom tuned with the SFI 2, no problem.
Just plug the SFI 2 into the MMT's Tuning port and tune that perfect map.
Then, you still have the ability to "trim" map for conditions with the Power Select Switch - and you even have, by setting it at "0", to recheck how the "zero" map was in comparison to your "SFI Tuned Map".
EZ install - all stock connectors, no splicing.