CRB-S47-1.7-RK
$99.95

00-06 usa (not California)
00-17 Australia

The Ti ProKit w/Titanium needle. Factory Pro decided to develop their own needle to address the special needs of the DRZe and KLX 400 and here it is!
The kit, when properly tuned, adds more low-end / midrange and if the proper main jet is selected, more top-end power. Easy to install and tune.
Includes an assortment of Keihin style main jets and smaller Keihin pilot jet for high altitude trips!

The needle is the TRICK!


SHFT-PRO-S46/drz400-CER
$139.95
The ceramic arm and spring kit.

The original shift improvement kit -

Ever miss a shift??
Includes Factory Pro Microbearing Detent Arm, heavy duty detent spring but not clutch cover gasket. Makes shifting more positive at the expense of slightly stiffer shift lever action. The stronger detent spring rotates the shift drum quicker, so the gears are more likely to engage under quick shift conditions. The Microbearing removes friction for the quickest possible shifting with the least amount of effort.
Includes: Factory Pro Microbearing Detent Arm, Factory Pro Detent Spring.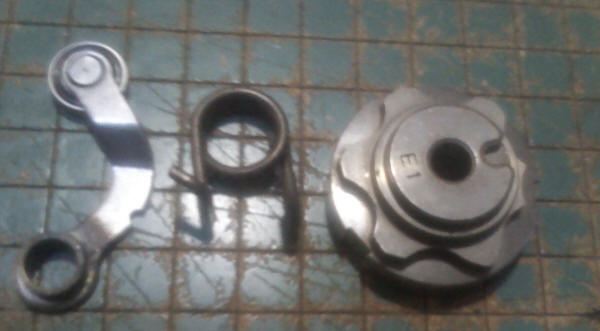 Our 2 piece kit includes microbearing detent arm and F-Pro Shift Spring.
Kit does NOT include a shift star. Stock star shown for reference only