In motorcycle racing Todd Harrington will always be remembered for one thing - winning the 1996 Road America AMA Supersport race. In one of the real stunners of the championship's rich history was Harrington's victory in Elkhart Lake on a true privateer machine. It marked the last time a true privateer won the factory dominated AMA Supersport Championship before it became a series for young up and comers. Harrington won the 96 Road America Supersport race on a 4&6 Cycle Kawasaki built by Jim Rashid. This was during the height of factory involvement in the series and privateer bike winning at a high-speed track like Road America made even that much more impressive. The victory helped Harrington earn a factory Kawasaki ride in 1997 when this photo was taken.
..............................................
As far as non-Muzzy teams go, these were a few years when "non-factory" supported teams had a leg up on the "factory" teams. Well, at least as far a Kaw was concerned. Once we figured out the "frame flexing under hard braking, frothing the fuel and loading up the engine" problem, we, the "non-factory" teams, had a few hp on the "factory" backed teams.
We ended up working pretty closely with Muzzy and at about mid season, they were using our 1.7-RK carb kits, too.
Then, there was that "other" Japanese brand who had different head castings.........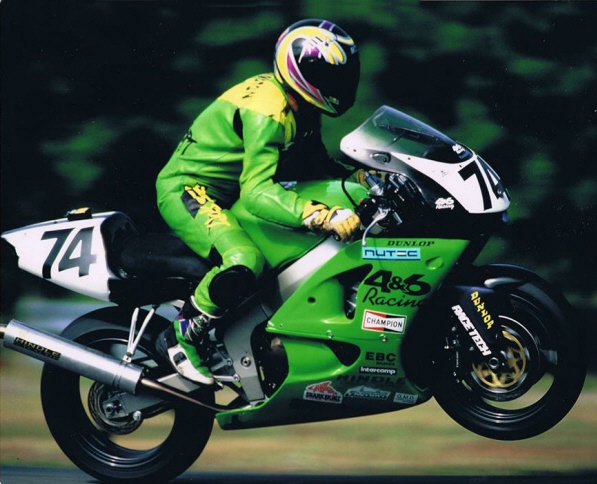 Todd Harrington, 4&6 Racing, ZX6r, Factory Pro Equipped
The Harringtons own American Flyers, one of the most established flight training facilities in the USA - 8 locations - 800-362-0808