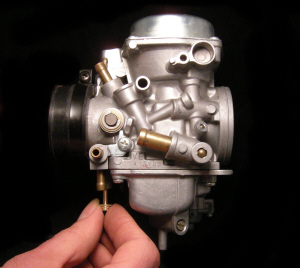 (Jason Carmichael's vt600 carb)
Long Boy Fuel Screw $23.95
pn: CRZ-SCR-4010-K
with new spring, washer and o-ring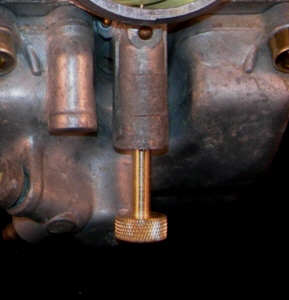 (stock picture, not a vt600 carb)

"Long Boy"
VT600c/cd VLX hand adjustable Fuel Screw assembly
Frustrated with trying to find an "almost 90 degree" screwdriver with a "D" socket to fine adjust your fuel screw for best idle and cruise?
Use Factory Pro's new "finger adjustable" fuel screw to adjust fuel screw for best throttle response. Traveling to high altitude? It's easy to lean out the lowend temporarily.
Make your life easier!
Installation:
Remove old short stock fuel screw, old o-ring, old washer and old spring. The o-ring might be stuck in the carb, so take a light and make sure it's really out (or you can't find it after you took out the screw)
Use a small bent wire to pull it out if it doesn't drop out. Keep the old parts for "spares".
1 VT600c/VLX screw assembly comes with:
1 Long Boy fuel screw CRZ-SCR-4010-K
1 new o-ring
1 new washer
1 new 32-spring
Thanks Jason Carmichael of Enterprise, AL for the use of his carb!



CRB-HXX-1.0 $89.95
NEED TEST BIKE - FREE CARB KIT!
info@factorypro.com
San Francisco area only
415 472 4962
NEED TEST BIKE 800 869-0497
The #1 choice for jetting your Honda -
Factory Pro's EC997 dyno developed Carb Recalibration kit.
STD drop-in carb recal kit
Adds more low-end / midrange, if the proper main jet is selected, more top-end power. Easy to install and tune - no slide drilling. Contains 2 needles, a supply of clips, main jets for both carbs.
If you want tuning to Best Power (not fictitious a/f ratio) - for best acceleration and mileage, too, please visit a Factory Pro Tuning Center.
Not just a common "dealership level" dyno!


SHFT-PRO-H39-steel
$169.95
(verified 91-07 years)

Pro Shift Kit

Takes 1-2 hours to install.
Makes normal foot shifting much quicker and virtually eliminate missed shifts. Helps address missed shifts caused by poor shift detent "star" profile. Much more consistent shifting.
Helps with quick 1-2 shifts.
This kit will not fix a gearbox with already damaged internal parts. If your transmission is already jumping out of 2nd at full throttle, you waited too long to install this shift improvement kit.

User's comments