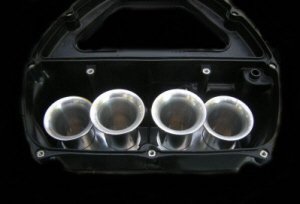 pn: VEL-Y83-85100
Exclusive 3-5 HP Mini-liptical Radius

$599.95
30 to 60 day lead time
NOTE 1
Disconnect linkage on stock stack actuator. Leave it plugged in.
NOTE 2
As of 5 November, 2010, we still hear about problems with the plug-in Graves EXUP Eliminator device. Symptom is the FI light popping on immediately and sometimes not even going out during the initial system check. Solution is to re-install your servo motor, without the cables.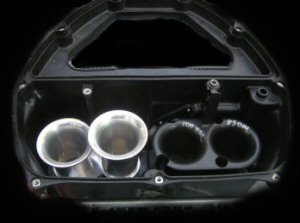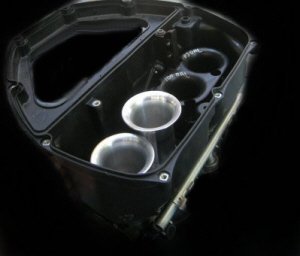 Factory Pro Superflare Billet Stacks
Optimal "Mini-liptical" inlet radius
3-5 True HP - peak and upper midrange NO RETUNING
Better throttle response
Eliminate laggy stock YCC-I adj. stack action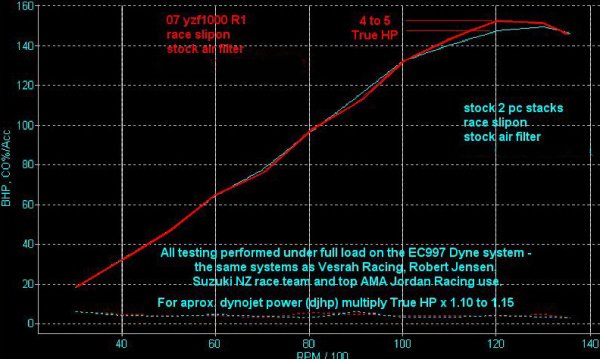 As you can see, removing the "adjustable" stock stacks and substituting improved "fixed" stacks produces better lowend, upper mid and peak power.
For performance use, Yamaha YEC also removed the adjustable stacks and uses fixed stacks.
By building on our research experience with our R6, the 98-01 R1 and the 04-06 R1 stacks and Xxxxxx Racing, we were able to create a subtly unique combination of inlet taper angles and radii that work very well - increasing intake charging to a higher degree - which equals more power produced.
The above chart is on one bike - We did another bike with similar peak results, except that power on the second bike was about 3-4 hp better at 8k instead of 2-3 hp..
They both still had that little dippy thing at 9k - the "average" horsepower across the rpm band was still a lot better than stock adj. stacks.
The 9k spot is where the fuel gets a bit rich (see the little bump "up" right below the word "multiply") and I'd expect that most or all of that dip would go away with a Teka 4 or PC3 that was properly tuned.

The BLUE test is the BASE with stock stacks and the RED is the FP V Stacks. UNTUNED
It's 3 to 5 True HP better from 11,000 to 13,000

Peak hp w stock stacks:
149.9 True HP
Peak with Gen 2 stacks:
152.6 True HP.
(for dynojet hp, multiply True HP x 1.1 to 1.2)

3 total "peak to peak" HP and 4 hp better at at 13,000 rpm.
(it's new peak hp 1000 rpm earlier than stock, i.e., pulls harder earlier)

These R1 stacks are the new 2010 Factory Pro Design "Mini Liptical" profile.
New Gen 2, Mini Liptical profiles develop even smoother airflow for better ram charging during the intake stroke. Higher velocity means potentially higher dynamic compression and that means...
Best Power.

Ttesting was performed on Jeff Viets (Viets Performance) trackday R1 with:
"race baffle" slipon, stock engine (just like your stock bike), stock air filter and a TEKA 4 or pc3 with an "all stock map".
These are TRUE, STEADY STATE, Fully loaded dyno tests - To get dynojet hp, multiply True HP x 1.1 to 1.2.
These are NOT, dealership level, simplistic "4th gear wacks".
"4th gear wacks" are likely to deliver different results - "4th gear wacks" don't simulate the real world very well, and that's what is holding back many of the auto and mc industry from progressing. Ever wonder why most of the automotive chip guys, like Diablosport, bailed out of dj car dynos? Poor dyno loading = poor tuning for the real world. Same with most of the Nascar guys that I've talked to.
We also tested both the 55mm and 65mm $790 usd YEC stacks - Like many oem "race kit" v stacks, they are not designed for a stock engine - They are likely a beneficial addition if you have a YEC engine - but not a stock engine. (and I really mean that they "don't work well" on a stock engine!)
Feedback 07-08 R1 Stacks
10x man
power u definitely feel it on low u it kind the same on middle then it get better on top speed i think it is one off the best upgrade and power feel for the money
Dhalia Maroun 7 November 2010
.............................................
The stacks are definite improvement over the stock YCC-I set up, Not only is the idle smoother, the boost in power is very noticeable above the 8k mark. Having run the stacks at Willow Springs I noticed an improvement in power exiting turn 9 at around a hundred mph at 3/4 throttle, twist to 100% throttle and the bike feels like a turbo kicks in. It is not violent power, in fact it is smooth controllable power all the way to redline. when you cut power there is no lag or violent drop in power either, i am also running one less spring plate in the clutch for less engine braking and the stacks have helped lessen the rather violent engine braking. My belief is, the shape and the fact that they are no longer controlled by the ECU. (only speculation)

This is the first time i have had the stacks in one of my own bikes, and I wish I had not waited this long to run a set. I can say the stacks would have greatly improved the fueling on my 929 and made it a bit more controllable. I have ridden other bikes,( 05 GSX_R 1000, 03 YZF R1, 04 ZX-6, DUCATI 999 ) with v-stacks from yosh, graves, etc.
None of the bikes were ever as smooth as my Factory Pro stack equipped R1 - nor was I able to notice a power jump with violent action from the rear tire with the other bikes.

On the street, well, lets say the transition is so much better around town and on the freeways, I find I have to really scan my clocks to ensure I stay. at....err, legal speed.
I transition from a 45mph road to freeway speeds to get to work......well, before, with the stock v-stacks, the powerband was noticeable in the hills and valleys of the fueling, you could actually feel a drop in the mid range, almost like the bike was too rich, but now the transition in mid range is much better and the bike will be at 90 mph without a noticeable sag in power, just a smooth climb until 100mph then you can actually feel, I mean "feel" the extra power come on.

If you own an 07-08 R1, you would be a fool not to use these stacks in your build up of the bike. I am sure that others are going to say that the YEC or Graves are the better........If i had a Graves built bike or a YEC motor then yeah i would run those, however, they do not allow themselves the smoothness or the flexibility for those of us that can not afford "race" engines. These are the best for the average "street" rider with bolt on mods from the books.

Thanks Marc, see ya on July 5th.
Dennis June 2010

Installation:
Tools:
Normal hand tools
1/4 or 3/8 socket set
5mm allen wrench
Difficulty:
Easier than replacing spark plugs and slightly more involved than changing an air filter
Remove airbox top.

Unbolt stock upper stacks.

Remove original stack linkages.

Unscrew 6 lower stack mounting screws.

Remove the stock stacks.

Save all old parts.

Outside of the airbox, assemble two new stacks (short stack to outside) into a mount bracket (with the bracket properly oriented).

Place the Factory Pro stacks and bracket into the airbox, aligning the stacks to the throttle bodies and the 3 mounting holes to the throttle body mounting holes.

Put a drop of MILD Loctite (not "red") on each screw and Insert the stock allen screws into the bracket holes. If a screw were to come out., it would be very bad for your engine. USE LOCTITE.

Gently hand snug, then, tighten to 6 ft lbs / 8 nm torque, using a crisscross pattern - The bracket should be perfectly level when you properly tighten it.

Repeat for the other 2 stacks.

Reassemble airbox lid, etc.

The ECU won't light the FI light, but a diagnostic mode dash scan may show that the stack servo motor is not functioning.

Notes - Corrections - suggestions? email here