89-93 KX125
89-06 KDX200
97-05 KDX220
92-94 KDX250


F-Pro
Microbearing Detent Arm
$59.95


(inc Microbearing Arm only. Use the stock shift spring. Gasket not supplied)

Make shifting significantly quicker, virtually eliminate missed shifts and false neutrals.
New, drop-in, F-Pro Detent arm equipped with the latest technology Microbearing. Takes about an hour to install. No case splitting.
Eliminate that draggy, Stone Age stock riveted shift roller - and replace it with an almost zero friction precision Microbearing - for wicked fast shift action and fewer missed shifts.
It's like a dream that come true.
Super clean - fewer missed shifts - quicker gear change - better than a lot of new bikes. Missed shifts damage shift forks and gear engagement dogs - Help prevent missed shifts with the Factory Pro Detent Arm Kit.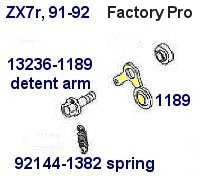 It's the same arm as a 91-92 zx7r