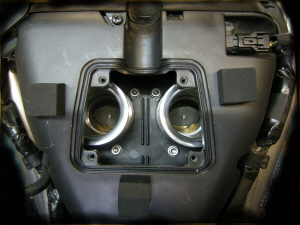 This photo shows the airbox top "off". Normally, the top would be "on".
Stacks can be run with aftermarket AFT, GNC and roadrace airboxes in various lengths, 15mm to 80mm
VEL-K66S64-6060 $149.95
(fits ex650 07-16)
(requires enlargement of the 2 airbox stack holes to install)

Billet Superflare EX650 Velocity Stacks
Boost the EX's upper mid and topend by 2-3 hp and lowend by 1-2 hp.
(as shown in the below chart)
and
improve low speed running and make throttle response crisper and more responsive
(not shown on chart)
and
give your EX a crisper, more solid intake sound at high rpm.

Our testing was done with:
stock engine, stock exhaust and stock air filter - and NO fuel injection tuning at all.
See dyno chart below.
Installs into the stock airbox (with modified stack entry hole)-
The above picture shows the airbox lid removed, to show installation of stack.

Note:
The EX650 stack Installation requires a bit of extra work.
Grinding - Enlarging
the original plastic airbox holes need to be 2mm larger in diameter.
Relatively easily done with a Dremel hand grinder or large rounded side of a file.


GNC / dirt track airboxes: enlarge through holes by 2mm. The adapter rubbers clamp to the stock throttle bodies and to fit like a grommet in the airbox plate hole in the same fashion as the stock stacks.
Dirt track stacks can be ordered in:
15, 21, 25, 30, 35, 40, 45, 50, 55, 60, 70 and 80mm lengths.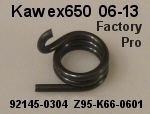 F-Pro Shift Spring.


ex650 17
pn: z95-k66-0601


$39.95

(replaces oem 92145-0304)
1. Choose your shipping method

2.


.................................................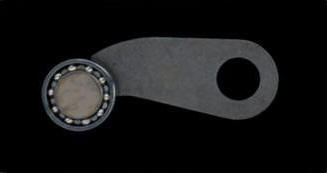 (sample pic - not of 650 arm)


low friction Hybrid Ceramic Detent Arm



pn: SHFT-ARM-K0170-KT-CER



$79.95




(replaces oem 13236-0170)





F-Pro Shift Spring

Replace soft stock shift spring for "better than new" shifting.


A MUST DO for

dirt track

.


Improves manual and quickshifter shifting.

Brightens up shifting and

virtually eliminates missed shifts

and damage caused by missed shifts.

The 650 has a pretty good detent arm but you can make some additional improvement with a
Hybrid Ceramic Detent Arm.

Installs under the clutch basket. Take 1-2 hours and a 1/2" impact wrench. Clutch cover gasket not supplied.




Use arm and spring for best results - but if you are on a budget and only buying one part, buy the spring.


(415) 883-5620
/ (800) 869-0497