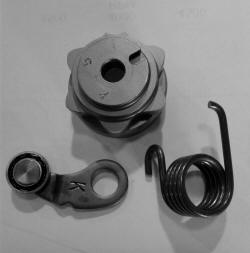 Shown with optional 004-0601 spring.

SHFT-EVO-Y25-KT $199.95
07-13 (14 is different)
(inc STAR, 3xk Arm and DOES NOT INCLUDE CLUTCH COVER GASKETS)

Feed back to

"How's it working? Aug 2012

Yes, works great! It's a must have item. 5th gear used to only last me about a month due to missed shifts, now I'm going on 3 months since my last rebuild.

Jason Moser
Sault Sainte Marie, MI

..........................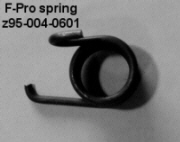 z95-004-0601 F-Pro Shift Spring $29.95
(inc shift spring only)
replaces 90508-26561 stock spring
spring also fits:
yz450f 03-05 *
wr450f 03-06 *
yz426f 00-02 *
wr426f 01-02 *
yz400f 98-99 *
yz250f wr250f Evo Shift STAR Kit
"99.7%" eliminate missed shifts.
The EVO Shift STAR Upgrade kit will upgrade your bike to the latest, greatest shift action.
Perfect for when you are tired of paying attention to shifting and just want it to shift right. MX. SM, Desert, trail -
Virtually eliminate missed shifts - Shifts 5mm to 10ms quicker
Make shifting MUCH quicker and virtually eliminate missed shifts. Helps address missed shifts caused by poor shift detent "star" profile.
Helps prevent shift fork and gear engagement dog damage caused by missed shifts.
The Factory Pro Shift STAR kit is an awesome upgrade for the Yamaha.
Installation: Slightly more complicated than replacing the clutch basket.
No case splitting required.
Installation Instructions - click here

Feedback
Yamaha Shift Star kit worked awesome! Not one missed shift all weekend. Easier to find neutral, too - Which is good because I have to put it in neutral to start it for some reason. Doesn't like to start with the clutch in. With the close ratio tranny, I did a lot of shifting.
Leigh Thomas - Mojave area

CRB-CY25-1.7-RK $99.95
WR and YZ250f till 02
2.
---

CRB-CY28-1.7-RK $99.95


YZ 250f 03-13 1. Choose your shipping method
2.

Feedback June 2018

Hi Marc,
Purchased one of these kits from you late 2014 and corresponded with you approx. 6 times. Have 2006 YZ250F, 290 big bore, stage 1 Hotcams, full Dr.D pipe, 2stroke air filter cage, no-toil filter element with 6 x 30mm holes drilled in airbox, Boyesen power X-wing.


Previously was using xxxx Jetting :#45 pilot, ps 1.75 turns, Red needle/5, #175 main . Ran pretty good. First step just changed to EMU tube, BIG improvement, next you suggested titanium needle which I did along with #135 main. I had already adjusted float height to 9mm .

So I ended up with this: #40 pilot, ps 1.5 turns, needle/4, #135main. No MAJ mod, you suggested don't do it at first. The bike felt good, crisper and smoother than ever before, over the whole range.


Just started riding again after 2 years. no time to ride with work and helping our son, done some more testing and found that #135 main was too lean , went to a #140 main, way more power upper range, eventually settled on #142 main. No access to one of your dynos , just seat of my pants and plug chop to help verify my pants dyno. Even tried #155 main ( all I had at the time that was closest to #142 ) it was way way rich and less top end.


I still have to go back and check needle position and pilot circuit and fuel screw. Your kit is the best I have ever used and I have tried a lot of combinations over the past 7 or 8 years. Can I get away without the MAJ mod? Is there any other info you can offer me with what iv'e tried so far as to help with fine tuning and set up?

I will try send previous correspondence to help add to this E-mail.

Thanks for your time Marc, I really appreciate it. Your kit is really good.




Regards,

Trevor Rhind
New Zealand
....................................


Feedback

Marc, First I want to thank you for the quick reply, you guys are the best.

The '04' yz250f with your kit seemed to make a huge difference from mid throttle to wide open, and same with the '06'

The CRF450r flat out screamed on top. Amazing!

The '08' CRF250r
seemed to make the most improvement in the mid throttle range, the guy was in a hurry to get to a race and I only made recommended changes with one test ride (for me not enough testing) but I talked to him a cpl. weeks ago and he said it was running great.

I agree with you, I don't know why more mx'ers don't use your kits - they are hands down the
pinnacle in jet kits.......


...... So can you help me out with the '07' Rmz-250, my son is getting faster moving to the intermediates and
needs more power.

Your #1 fan,
Chuck Sheets
05 rmz450 52+ int.


This is probably the best performing, least well known FCR carb kit sold for the 250.
Titanium needle, patented tuning components and Stainless steel allen screws for the float bowls. Adds more low-end esp. - and especially more mid and topend power - easier than other kits to install and fine tune.
Includes:
Factory Pro's famous "Bog be Gone" and "Starts better when hot" features.
This kit is significantly improved beyond the usual dealership level dyno developed kits that are more common..

Adds about 2 TRUE HP to an otherwise "best other jet kit jetted" 250.
For us - it's been interesting - I got, from one the off-road guys who owns a 3 letter abbreviation off road parts supply company, "What are you saying? That you can jet better than Xxxxx Xxxxx?"
Well, actually - yes, maybe we can tune carbs better than Xxxxx Xxxxx.....
We can do some pretty interesting things to a Keihin FCR carb - including boosting power, response and improving mileage.
So.... This kit will produce about 5% to 8% / 2 True HP better than any other carb kit for the Yam 250 - and the bog that was associated with the Yam 250 is pretty much gone under most conditions.
Keep in mind, though, you still can't be putzing around at 2000 rpm and expect the engine to accept full throttle - That would take a CV type carb - and not an FCR - but at least, you can snap the throttle to 1/2 - 3/4 open and not get a bog -
This kit could never have been developed on a dynojet dyno.
Factory Pro Tuning Centers
Feedback
Dude, my bike freakin' rips now !! I thought it ran great before. Way better now. Our jet kit rocks! 
Leigh Thomas - Factory Pro Tuning - March 14, 2011
w/290cc kit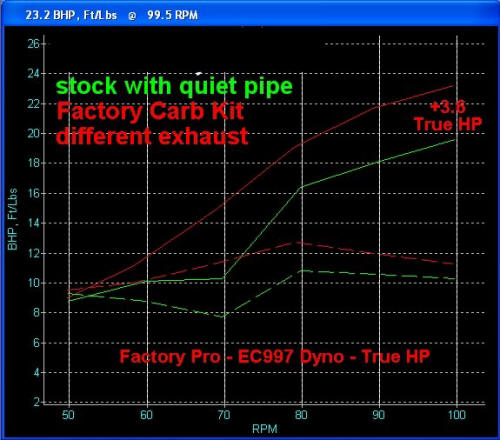 Note!!!
This in NOT, NOT, NOT, NOT, NOT dynojet inflated HP Scale!!!!!
This REAL HP - NOT, NOT, NOT a ridiculous 42 dynojet hp on a 250 four stroke engine that revs to 12,000 rpm, improperly factored HP. That goes for other dyno companies that try to "emulate" dj inflation factors.
This is TRUE HP

FEEDBACK
Dear Factory Pro,

Below are the final settings on my 2003 WR250 with your kit #: CRB-Y28-1.7-RK. Many thanks to Raul for responding very quickly to my (approx 6) calls during the tuning in process.

First, I had the local Honda/Suzuki/KTM shop (Sierra Motorsports, Grass Valley, CA) do the initial drilling and jetting. Perry is the main mechanic and is familiar with your products. He set it per your recommendations:

Main: 138
Pilot: 40
Clip position: #4
Fuel screw; 2.5 turns out

FYI: The bike ran very rich with these settings. I am at 3000 ft elevation and the outside temps were 70-80 degrees. The bike is a 2003 WR250, but with YZ250 exhaust cam, YZ stock exhaust pipe, and all the WR "free" mods done. Basically, the bike is now a YZ250, but with the advantages of an WR electric start and lights (for my woods riding).

Solution, after several trial and error changes and talking with Raul:

Main: 135
Pilot: 35
Clip position: #2
Fuel screw: 1 turn out

The bike runs well at these settings. Only a slight burble exists at 1/8 throttle, but it is not a bog. While the settings seem all on the lean side, once I buy a more-open air filter K/N filter) and get an after market exhaust, the settings will likely need to go richer.

I will appreciate any of your thoughts on the results.

Chris Stecko
Chris - I'd expect that you'd be about 2 main jets smaller than sea level (~1 main per 1500ft, the old Salvisberg rule). Because you've changed the exhaust cam, though - that can change jetting requirements - up or down -
If you've got the main jet installed that makes best topend power, the needle height that delivers the best 50% and 75% throttle opening topend power, the float height setting for best topend power at 25% throttle opening and the pilot jet setting that delivers best idle and teeny throttle opening response - then you are done - Good job!
<CHUCKLE!> You can see how someone who doesn't know jetting could get flustered, neglect to fine tune and decide a jet kit (when thrown in at base settings) "doesn't work"!!
Best regards - Marc
---
Initial response/hard pull right from the bottom all the way to the top. Two other guys that ride an 04 and a 05 both rode it and said the same. Low end pull seemed to be the "big thing" but all said it was stronger all the way through. All three are experienced road racers and one is a long time hare scrambler so I trust their "Levi's dyno"


Marc Salvisberg <marc@factorypro.com> wrote:
I'm not at work to check - but... Great! What did he mention, specifically? Happy Easter!

-----Original Message-----
>From: 2K MOTORSPORTS
>Sent: Apr 15, 2006 5:02 PM
>To: Marc Salvisberg
>Subject: FYI
>
>Hey Marc
> I while back I asked you if the "06" yz250f carb had changed or needed any thing different for the carb kit. You were guessing but pretty sure the kit would work. And imagine this, you were right! I just heard back from the guy I installed it for and he couldn't shut up about how much he loved it! (no dyno time just recommended set up!) just thought I would tell ya just in case you hadn't had one to look at yet.
>
> Not hard to please customers with products like this!
>
> talk to you soon
> KK
Everybody dies! Only some of us really live!!!
http://2kmotorsports.tripod.com
---