(sample pic)
pn: CRB-4Y35-3.0 $59.95
discontinued

The Banshee yfz 350 carb recal kit was designed with as much care and attention to detail as we give to our EC997 dynamometer and test routines, our Shift STAR shift improvement kits, our Billet Engine Covers and all of the other products that the quickest road racers in the USA and World used to collect a total of 9 WERA and F-USA national Championships - along with the Suzuki Cup World Champion, Rob Jensen.

We've now entered the off-road arena to bring some new, exciting, well proven concepts, such as our easily tuneable "HDJ" style jet kits and several other things that we've picked up along the way.

One of the improvements was dyne systems design and test routine design - We have been saying for years that inertia dynos were misleading and now, these new "HDJ" carb kits show how much better the
EC997
load dynos are than
inertia dynos
when it comes to developing any performance products. Sounds a bit egotistical? Perhaps it sounds that way - but, I think that we've got quite a few local Norcal racers that we've done fine tuning work for that would agree with us.

We really aren't egotists - We are just passionate about fine tuning.
The Factory Pro HDJ kits, designed by Marc Salvisberg, will run more evenly over a wider temperature and altitude range than any other carb kit and will produce 3% to 8% better power than another carb with the "best main jet" in it, when properly tuned and tested under a real load. This does not mean an inertia dyno - though, power will be better with a dealership level dyno, also.
So - Here's the power - Buy it!

Thanks!

800 869-0497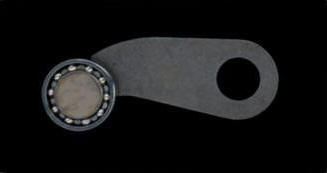 (sample pic - not actual Banshee arm)

yfz350, 87-09, all years
Microbearing Detent Arm

pn: shft-arm-y35
$89.95

350 Banshee
Microbearing Detent Arm - Improves shifting greatly.
Virtually eliminates missed shifts.
Ready to use. Bearing is pre-installed. Permanently riveted in place for reliability. No core charge.
Factory Pro has a log background in making Shift Kits - Arms, Stars, Springs.
Make shifting much quicker and virtually eliminate missed shifts and unwanted neutrals.

Bring your shifting up to high performance levels.
Works with original and modified and Mull Shift Stars.
Reduces shift drum friction for more precise shifting - quicker shifts, virtually eliminates missed shifts.
Takes about an hour to install.
replaces original Yamaha part number: 4L0-18140-00-00



User's comments