Setting the fuel level on a carb with adjustable float heights is the way to jetting perfection. A too high or too low of a fuel level will cause the engine to run too rich or too lean at low rpm cruise and at full throttle / 3k (on sportbike) or 2k (on cruiser).

If you've ever tried to set the float height on the 38mm Mikuni carb, you'll appreciate the fact that this simple tool transforms a 30 minute job with poor repeatability into a 5 minute breeze with superb measurement repeatability.
The float bowl is designed to capture the float cage into the carb body. This fixture duplicates the clamping function of the original float bowl.
Alternatively, you could cut the bottom of a stock float bowl to hold the cage into the body, but that doesn't work well, unless you have extra float bowls!
Holds that pesky float cage into the carb body so you can measure the float height properly.

Works on YZF750, TDM/TRX 850 and Ducati 900 / 750 / 600 and all with similar 38mm downdraft Mikuni carbs (not for late gsxr600 / 750 style Mikuni's)
Cost $14.95 USD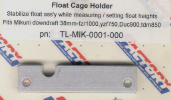 click for big pic!