ZX6r P7-P8

All power products developed and tested on the Low Inertia EC997 Eddy Current Dynamometer using the no BS - consistent from dyno to dyno
True Rear Wheel HP Scale

EC997 dynos
TRUE HP


Attack Racing's ex AMA Formula Extreme zx6r.
How much True HP??
pn: VEL-K39-1525
$329.95

The stock 07- 08 zx6r's are interesting in the intake tract area.

The throttle bodies and stock velocity stacks cross section is shaped somewhat like an old time western bathtub, complete with a head rest, but minus the suds. Not much going for it, as far as effectiveness in power production. I think I know why they did it, and it wasn't for power.

We worked on the EC997 Dyne System with keeping the original shape and only modifying the lengths, but got essentially, nowhere. That pretty much eliminates the "KRT" stacks.
With a lot of creativity and a large investment in molds, we created a round cross section stack and a unique rubber "oval to round" adapter.
We individually tested many different lengths and shapes of stacks and the zx6r (and 636) really woke up.

This testing was done with a Leo Vince race slipon. After we did the R&D, we installed a Leo Vince full system and picked up another 3-4 hp throughout the upper midrange and about 3 at peak. A REALLY good match for the stacks!

The chart below is JUST installing the stacks on an 5/06, but the 07/08 results are similar. A very nice improvement for $280 and about 45 minutes of owner installation time.




SHFT-EVO-K37-KT $169.95
(this kit includes STAR, high performance shift spring and clutch cover gasket)

Shift STAR kit

The EVO Shift Star kit - Easier shifting for street and track
Quicker shifting for street and track
Virtually eliminates gear breaking missed shifts

Helps protect the 6r's shift fork and transmission gears from damage during missed shifts under hard use.

Installs under the clutch basket, no case splitting required.
Suggest using an air wrench to remove the clutch nut.
Takes about 1 to 2 hours to install, depending on speed.....

This kit includes STAR, high performance shift spring and clutch cover gasket - The 07-08 zx6's already have a copy of Factory Pro's ball bearing detent arm.

As a professional engine builder, I've done most everything you can do to a set of gears, and shafts.

A great (read as 5 to 10 hours of labor) gearbox job generally includes:


Shimming to minimize lateral play on the gears. (to builder's judgment)

Shimming to move each fixed gear closer to it's sliding mate (but not too close) (to builder's judgment)

Shimming shafts to move the assembly closer to an optimum position. (to builder's judgment)

Using a surface grinder to make your own custom thickness shims.

Making sure that you place the "rounded" side of the circlips against any shim or gear

Checking and adjusting shift mechanism "fingers" on the shift star "pins". (to builder's judgment)

Checking, replacing gears with worn engagement dogs and slots - or undercutting worn engagement dogs.

I tend to try to use as little angle on the undercut, as the more undercut angle, the more you have to let off the power to get the gears to separate - important when not using a "quickshifter" or "air shifter".

Deburring of most gears, most shafts, the shift drum and the shift forks

A commercial facility, such as Supertech, owned by the iconic Dennis Zickrick, in Colorado, does metal finishing and low friction coatings.

I don't recommend cryogenically treating powdered metal gears, like most Japanese type gears are - I don't feel it's a good use of the process. I know that I'll get some flack on that. I'm not saying that "cryo" is bad, as I do use it at times for pistons, springs, knives, unfinished gun barrels... just not powdered metal gears or large finished machined castings.


Additionally, separate from the gears and shafts, there's the shift mechanism (shift shaft, selector device, shift fingers, detent arm and spring, detent star)


Checking straightness of shift shaft (sometimes they get bent on the left, shift linkage / rear set side)

Polishing sliding parts in the shift mechanism (to decrease friction of shift drum rotation - and "quicker is better")

Reducing friction of the detent arm (arm needs a bearing - which we make as a model requires and "quicker is better")

optimizing detent arm spring pressure (if the spring pressure should be changed, we make - and "quicker is better")

optimizing detent ramps (if the ramps aren't right, we make replacement "stars" - making it "quicker")


Adding an EVO Shift STAR kit - In general, if the gearbox is setup "alright" (I would say that most stock, original, undamaged transmissiona are "alright"), that just adding the EVO Shift STAR kit is going to be 80% to 90% of what is theoretically possible in improving shifting quickness, reducing missed shifts, decreasing rider effort and protecting the shift forks and gear engagement dogs from damage caused by missed shifts.


How do you know that a transmission is shifting quicker and more reliably?

You can feel it when riding.

Even when hand shifting on the bench, it's easier to get out of gear and "snicks" into gear, rather than "clunks" into gear (yes, most Kaws won't shift into 2nd unless the output shaft is spinning :-)

You notice that you only have time to slightly "twitch" the throttle off a teeny bit between shifts and hardly have time to pull the clutch lever even a little before the bike's already in the next gear.

You "try" to miss a shift on bench or riding and almost can't.

Your "quickshifter" equipped bike shifts clunkily after an EVO Shift STAR kit install and you have to decrease "shift kill time" by 15 to 20ms to accommodate the EVO STAR's quicker shifting.

That 15 to 20ms is now converted to "engine power" time, rather than "engine kill" time. That will improve power delivery time on a racetrack and at the drags.

Funny story - an AMA team called up and said the bike's shifted awfully clunky after the Shift STAR - I was mystified and in talking, we couldn't figure out why the riders claimed the clunkiness - as in the pits, it was def. quicker - and didn't even think to ask about whether they were using a quickshifter.
They called up later and said that they figured out that the "quickshifter" was now killing the power too long and it was perfect when they decreased the shift kill time.

BTW - for roadracing, a perfect QS system will have several factors to program. Should still be pretty easy to sort out - and there's nothing commercially available as or Feb 2009, and that includes the guy who supposedly built his own Suzuki ecu, (well, he did make the box at least - the ECU seemed to be a repackaged EFI Technologies ECU according to the software) on the market that's "right" for roadracing, though most all are are fine for drag racing and "alright" for roadracing.

ANYWAY...........

Engine tuning: KRT kit ECU with EC997 dyno used


06 636 with KRT ecu
J Farkas
(click pic to view full size chart)

The bike runs great, by the way, thanks. John Farkas
2006 zx-6r (636 ninja)

Unlike common dealership level dynos, EC997 dynos can easily be used to to tune the KRT, the Honda HRC and the Suzuki "kit" (sold by Yoshimura as "em-pro") race ecu's.
While a dealership might try to sell a pc and end up with, well, "tuned to a af performance", the Factory Pr EC997 dynos will actually help the tuner tune to the REAL correct af ratio - and that's the one that makes the Best Power -and it's different at every rpm and throttle position.
(a lot of guys with dealership dynos know that, but it takes too long to do on a dealership level dyno)

A dyno tuner and an EC997 with the exclusive Factory Pro 4 gas EGA can tune a kit ECU in a reasonable amount of time.

When the southern Ca magazine bike projects need a kit ecu tuned, they use the EC997 dyno. Since there's no EC997's in socal, they drive 7 hours up north.

The picture to the left is a thumbnail of John Farkas' 06 636 that was tuned to Best Power.


All Billet Engine Covers

10% discount if purchased as a set! Make sure you ask for the discount!
800 869-0497

Billet Engine Cover for 05-06 ZX6r / rr
(with the stock charging system)
Billet Engine Covers with Integrated Sliders!
(pat #6,637,787)

Absolutely the strongest cover you can buy - and has the highest strength / weight ratio available! Exclusive Super tough Hi Tech replaceable insert takes the damage!
Hi-Tech fly cut surfaces can be polished to a brilliant sheen for the ultimate in show! Does not require a new gasket.
The stock cover grinds through more easily than the Factory Pro cover when "low sided" on the right side of the bike. If the stock cover breaks, the bike settles even lower and the radiator becomes even more vulnerable to damage

COV-K37-LH-KT
$289.95
w/ Integrated Slider. 05 - no fairing cutting required
06 - delete stock cover/fairing mount and trim fairing
International buyers will be billed an additional $18
COV-K36-RH-KT
$109.95
w/ Integrated Slider. 05 - no fairing cutting required
06 - delete stock cover/fairing mount and trim fairing

Engine Covers, Billet Alloy , KIT ALTERNATOR COVER with patented Integrated Frame Sliders

If you are planning to buy "this" , you need - that >>>

COV-K37-RR-KT
$299.95

Billet Cover for Kawasaki "Kit" Alternator
(replacement for kaw #21001-0031 "generator, small")


Billet Engine Cover with Integrated Sliders!
(pat #6,637,787)

This is a limited production Factory Pro cover for use with the Kawasaki "Kit" Alternator assembly

Absolutely the strongest cover you can buy - Fine grain aluminum - within only TWO ounces of the Kawasaki Kit cover.

Has the highest strength / weight ratio.
Exclusive patented design Hi Tech non-delrin replaceable inserts takes the damage.

Hi-Tech fly cut surfaces can be polished to a brilliant sheen for the ultimate in show! Does not include new gasket.
The stock cover grinds through more easily than the Factory Pro cover when "low sided" on the right side of the bike.

If the stock cover breaks, the bike settles even lower and the radiator becomes even more vulnerable to damage.


Assembly Note!
The lower red allen screw is a shorter 20mm length to accommodate the rather generous external corner clearance bevel. The other 3 screws are 25mm long. All 4 are included in our cover. Our cover does not have a "through hole", like the "kit" cover.
The wire harness mount has been deleted (only two "spotting" holes are there) in the "Kit" cover. There is no possible way for the wire harness to move and hit anything.


Super detailed! If you ever wondered why "billet" engine covers are so expensive, that's over 1/2 hour of CNC machining, just in the interior, on about $300,000 worth of tooling and equipment. Also - the "blank" aluminum plate costs $50 to $60 each.


with 1" slider


We have even less overall width in the lower regions than the "Kit" alternator cover (in background)>
Our cover has the optional .25" slider installed.

Hi Marc,

I ran Factory Pro engine covers on my rookie season in 2005 as a Novice rider with the CMRA. As you know us rookies tend to crash a bit more than others. I'm sure I'm not the first to say the covers and sliders ROCK! On several lowsides throughout the season the bike slid on the sliders and never once tumbled. I contribute this to the position on the slider on the bike. Friends with conventional sliders found the slider digging in and flipping the bike causing much damage. Needless to say, my season ended in one Championship and two 3rd places. CMRA seen fit to bump me to expert in 2006. I purchased two brand new GSXR's and have already installed Factory Pro covers on the one through RaceworX in Dallas. Unfortunately I had the chance once again on December 20th at MSR Houston to test them out. Once again they performed great!!!! The bike slid on the slider. Beside a few scrapes on the plastic the bike was not damaged.

With this said I feel like I could represent your product with much confidence! If you offer a support program I would be glad to participate. As I said, I have already purchased a set for the Superbike. I'm only in need of a left side stator cover for the 06 GSXR 1000. Attached is a copy of my resume along with a rendering on the new paint scheme for the 2006 season.

I feel the your product has saved me a ton of $$$$ in crash repairs over the past season.

I
Thanks again,

Marv Esterly

CMRA #496 Expert

Air Filter, cleanable


BMC Air Filter
FIB-KAW-41504R
$89.95

05-06 BMC Race Filters
Call 800 869-0497 to order!
Factory Pro and BMC have produced the finest cleanable air filters available. Manufactured in Europe to craftsman's standards, if any filter would last 1,000,000 miles - these would!

Increase airflow for more power!

Ignition Advance Rotors




or +02 or +06

Blacked out because I don't have it yet
Ignition Advance Rotor.
Adds significant power at ALL part throttle positions. That equates to more "snap" in throttle response for you!

Tools

Tech
KRT Software
FI Tuning for Kawasaki zx6r/rr
using 4 gas EC997 Dynamometer Systems
---
Series WMRC

Thanks to all who helped me get to this level.
Keith Code and the California Superbike School
Kawasaki
Dunlop
Silkolene
AGV Sports
KBC Helmets
Sharkskinz
Elka Shocks
GP Suspension
Factory Pro Tuning
Graves Motorsports
Mackie's
Yin's TKD
Hi All
Well the moon and all the stars have gone into alignment for me and I will be contesting 11 rounds of the WSMC with an eye towards the class championship in four classes. F-40, 650 Superbike, 750 Superstock, and 750 Mod. Prod. This weekend was the first round and here is how it went;
The first race was 750 mod. Prod. And having no points in the class from last year I was gridded in the last row, fortunately that was only the fourth row. This was my first race on slicks and I was very nervous about it. I got a good start and was in second on the first lap behind Cory Eaton about two seconds back. We started going through lappers on the third lap and by the end of the fourth lap I was right behind him. He got balked in turn eight on the fifth lap and I took the lead. He came right back by on the front straight and I stayed on his tail through one and two, then going into three I got up the inside and took the lead back. I was very excited to be in the lead and put my head down through to turn nine. I got on the gas a little hard and it started sliding before the apex, which was just enough to throw off my exit and I went through the dirt into the pit lane and barely got it turned back onto the front straight. That was all Cory needed and he got me by a wheel at the line. 2nd.
Next was F-40 one race after. I got a good start from the second row and was second into one and first at the exit. I was going to try to put in some faster laps with the clear track and did for the first two. On the third lap I saw the fuel light on the dash and remembered I didn't fuel the bike, OUCH! I put it in sixth and tried to baby it in, luckily I had done two sessions on Saturday no brakes and I knew I could run 28s with no brakes in sixth. So with the brakes and three laps to go I was praying no one would catch me and I would have enough fuel to finish. I did and they didn't so I won. 1st.
Next was 750 Superstock, this is the race I lost by a wheel last month and two seconds in November riding my 636 Kawasaki. Registration had some problems and when I looked at the grid I wasn't on it. I went in and got that fixed but they didn't want to grid me in my points position and instead put me at the back of the grid on the fifth row. GROAN. I was freaked out about being in the back and put my mindset switch in the KILL position. I got off with the group and into one on the outside. I have no idea how I did it but going into three on the first lap I was fourth! Second by the end of the first lap and shadowed Cory Eaton for the next four laps. On the white flag lap I took the lead into three and got under a lapper just after the apex of four and blistered to the line for the win. Latter I found out the lapper had held Cory up until six but by then I was gone. 1st.
My last race was 650 Superbike. I was feeling good after the first three races and was ready for Chris Siglin. I got off good and was second on the first lap. My plan was to do the same thing and just follow the leader and only race on the last lap. At the start of the third lap Palazzo came up the inside of me entering one, I was able to hold him off but now it was time to go. I got Chris into eight but that was when I realized I had the suspension set up for slicks and I was now on 208's and there went the rear end and they both got me into one. I had the bike sideways in eight twice and was getting spooked. I hung on and thought we might have a dash to the line with me getting the double draft. I went into eight about twenty feet behind and right in the middle of eight the rear let go and got about 6 inches out before I caught it. That was it, they got at least 50 feet more in an instant and I lost the draft. Too bad because Chris got sideways out of nine and they both shut off, if only I had been closer. I finished third a half second back.
Will Eikenberry WSMC # 87 CCS Pacific # 63
---
Aloha Marc,
I called earlier today looking for you but i was told you were in the middle of R&D.

I appreciate everything you have helped me with regarding your race 04 ZX6RR, the Shift STAR shift kit you recommended works like a dream. Real smooth shift with little effort.
The reason for my call was I wanted to ask you when do you think you will have an ignition advancer available and what timing do you recommend. I was thinking 4 degrees, what is your take. I don't have a dyno to see what works, so im looking forward to your expert advise. Thank you again and God bless.

Sincerely,
Ivan Gabriel
Cycle City ltd.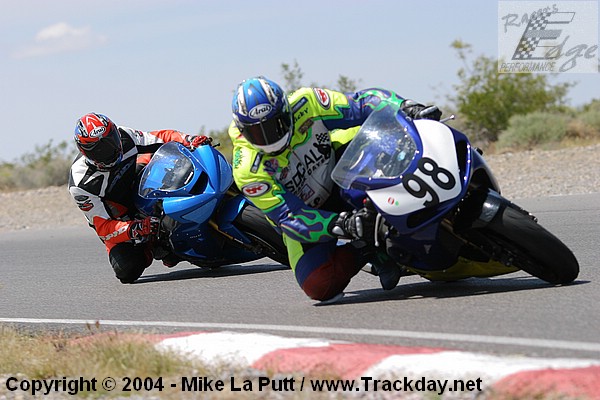 Curtis Cash creeping up an a gsxr1000 at Pahrump
May 2004
................................................................
MY Addendums and corrections to Roadracing World article, Feb 2005
"More Power!"
?

The 114.8 djhp that this zx6rr made in it's "pre-engine mod" stage 1, was the result of specially designed velocity stacks that we made for it, a specially modified ignition rotor to eliminate the max +/-5 degree limit that the KRT "kit" junior software has, a BMC RACE filter, a very easily tuned KRT "kit" ECU, an Akrapovic exhaust and we used an EC997 Low Inertia dynamometer to derive optimal power settings.
It made that 114.8 djhp using standard, Los Angeles, low octane, low emission, California pump premium fuel (unspecified fuel type in the article).
It started out at about 100 djhp, with stock exhaust, as measured on the same dynojet dyno.
It was not simply "the only other addition was a Kawasaki kit ECU, as the article states -it was Factory Pro Stacks, Factory Pro Ignition Advancer, and Factory Pro EC997 Dynamometer tuned KRT ecu.
Regarding the Kawasaki KRT "kit" ECU: The article states that "only a handful of people have experience with it" - It's not that hard to use - They even were able to use the ignition part of it, so, even they can tune it - with no previous experience. Since the kit ECU controls fuel, and they could tune the ECU, why leave a power commander installed? (because a dynojet dyno can't provide adequate information.)
The bike ended up running VP Ultimate 4 fuel (U4)- an awesome fuel for adding power! It's 6% to 8% extra oxygen content over plain fuels generates 6% to 8% better power - all by itself.
(if one added VP Ultimate 4 to the 114.8 djhp that it made with good tuning on pump gas.... 114.8 + 6% to 8% = 121.7 to 124 djhp)
The bike made, according to the text, "an incredible 124.7 bhp @ 14,000 rpm" -
'BHP" means "brake horsepower" as in on a load dyno - not an inertia dyno horsepower value.
There must be a difference, as the dynojet dynos read djhp, which is significantly higher than true hp - about 15% at the 100 true hp level, depending on which dynojet dyno you are comparing it to.
The graph doesn't show 124.7 peak power at 14,000 rpm - it shows 126ish - 127ish at 14,500 - 14,600 rpm.
Just to keep the facts straight, provide some background and reference values.
This week, this page sponsored by:

Absolutely NO carb parts sold in California.

New and improved
Suzuki Teka SFI 2
with new TPS display and "MMT" Memory Module Tuner feature

Finally - Quick, easy, cost effective Suzuki tuning with no expensive "add-on boxes"
Suzuki cruisers and sportbikes

Contact Factory Pro
M-F, 9am - 5pm, Pacific time, -7 or -8 GMT

800 869-0497
USA and Canada

415 491-5920

fax 415 492-8803

Factory Pro
179 Paul Drive
San Rafael, CA 94903
USA

If it's
4pm at Factory Pro it's 9am in eastern Australia.



parts information
info@factorypro.com

EC997 dynamometer information
info@factorypro.com

Product Support /Tech SECTION
click here

And most importantly
Restart back at the HOME page and click on the red box in the top left to find the bike that you want parts for...

restart at HOME page

This Tuning Site has been visited by

people.
www.digits.net - the oldest counting service on the web
Clock widget
LINKS

The below links are people and companies that are consistently impressive with their continual uniqueness and dedication to providing traditionally valued, quality products and services.
Marc



Flight Training - train with AMA race winner Todd Harrington.



The Harringtons own

American Flyers

, one of the most established flight training facilities in the USA - 8 locations -
800-362-0808




Train to Win

The Rich Oliver Mystery School will help you discover your hidden inner strength.
It will challenge you. It will teach you a new way of thinking and a new way of riding. You can take your riding to an exciting new level!

We use a variety of proven drills and training techniques.
Practicing these techniques with our Yamaha dirt track trainers will enhance your abilities both on the track or the street.

It doesn't matter what you ride or race, the Rich Oliver Mystery School improves everyone's skill level and mindset!

Book a sightseeing flight over the Wine Country or a Kamikaze aerobatic flight or a biplane flight over famous Sonoma Raceway, the Golden Gate Bridge and the San Francisco Bay for one or two during the spring and get a free souvenir t shirt!
NEW! Ask about the P-40 and P-51 flights!

707 938 2444

Just tell them that you saw this on the Factory Pro website!
Marc
Northern California's most unforgettable flying experience. No experience required. Open weekends! Call ahead in the winter.

Make your next tour Unforgettable, Affordable and Exotic.
Superbike Tours Thailand - See you there.

Geoff@superbiketoursthailand.com
The extension of the laboratory for engines of the Swiss Federal Institute of Technology was completed in about 1935. Its architect was Rudolf Otto Salvisberg (1882-1940). He had a successful career in Berlin but returned to Switzerland after the advent of the Nazis. His architectural style was somewhat similar to that of Erich Mendelsohn. The staircase of the laboratory is in normal use but well preserved.
Edited to the tunes of Chemical Residue by Herbie Hancock.

Artisan Crafted Fine Cheeses – Since 1865 - Specializing in Handmade Brie & Camembert

Marin French Cheese Co., also known as The Cheese Factory and Rouge et Noir is not just the oldest cheese manufacturer in the country, but a vacationers and day trippers destination as well as a unique part of American History. Located north of San Francisco, east of Napa County, west of Pt. Reyes and Olema and south of Sonoma County, Marin French has produced hand crafted Artisan soft ripened cheese since 1865. Rouge et Noir cheeses are similar to French and European varieties but reflect the characteristics of Northern California, producing it's own regional style.