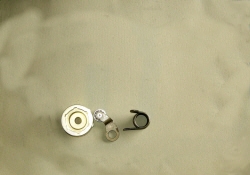 SHFT-EVO-Y45-KT $239.95
wr450f 04-15

(inc y45 EVO STAR, 3xk Arm, z95-y04 spring, no Gasket)
replaces 2s2 stk star, 3xk arm and 26021 spg
WR450f Evo Shift STAR Kit
The EVO Shift STAR Upgrade kit will upgrade your bike to the latest, greatest shift action.
Perfect for when you are tired of paying attention to shifting and just want it to shift right. MX. SM, Desert, trail -
Virtually eliminate missed shifts - decreases shift process 5mm to 15ms (must re-set shift kill duration if using a Quickshifter)
Make shifting MUCH quicker and virtually eliminate missed shifts. Helps address missed shifts caused by poor shift detent "star" profile.
Helps prevent shift fork and gear engagement dog damage caused by missed shifts.
The Factory Pro Shift STAR kit is an awesome upgrade for the Yamaha.
Installation: Slightly more complicated than replacing the clutch basket.
No case splitting required.
Installation Instructions - click here

Feedback
Yamaha Shift Star kit worked awesome! Not one missed shift all weekend. Easier to find neutral, too - Which is good because I have to put it in neutral to start it for some reason. Doesn't like to start with the clutch in. With the close ratio tranny, I did a lot of shifting.
Leigh Thomas - Mojave area